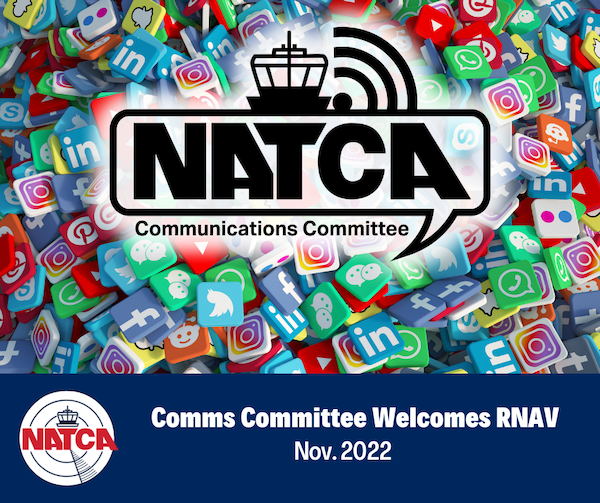 Retired NATCA Active Volunteers (RNAV) Joins NATCA's National Communications Committee
Earlier this year, the National Executive Board (NEB) approved the formation of the Communications (Comms) Committee, which works to develop, collect, organize, and maintain content for use by the Regional Vice Presidents (RVPs) in distributing information and respective regional communication teams. As the group develops, its goal is to facilitate improved dissemination of information to NATCA's members, including through potentially new methods of communication.
"The Comms Committee looks forward to helping foster learning and understanding," committee chair Shannon Lyman (New England, Boston Center, ZBW) said.
Recently the NEB unanimously approved adding Retired NATCA Active Volunteers (RNAV) Committee Chair Tom Thompson to the Comms Committee.
"It's an honor to be added as a member of the Comms Committee. This presents NATCA's retired members with yet another opportunity to give back, support and improve our Union," Thompson said. "The Comms Committee now joins RNAV, the Disaster Response Committee, the Historical Committee, the Benefits Committee, the NATCA Boots On The Ground program, the NATCA Charitable Foundation, the International Federation of Air Traffic Controllers (IFATCA), legislative activism, and event volunteers as being among the many opportunities for member involvement at all levels."
If you have a story or photos to share for NATCA communications, or questions about the Comms Committee's work, reach out to the committee members. Below is a directory of all the regional social media and member communications channels, where you can follow along with news and information pertaining to your region.
To learn more visit: https://www.natca.org/committees/comms/
NEA
https://www.facebook.com/natcanea
NCE
https://www.facebook.com/ncenatca/
https://www.instagram.com/ncenatca/
NNE
https://www.facebook.com/NATCANewEngland
https://www.instagram.com/natcanewengland/
https://twitter.com/NATCAnewengland
NSO
https://www.instagram.com/natcasouthern
https://www.facebook.com/natcasouthern
NSW
https://facebook.com/NATCASW/
https://www.instagram.com/natcansw/
NAL
https://www.facebook.com/NATCA.AK/
https://instagram.com/natca_alaska/
NGL
https://www.facebook.com/groups/2089793004604013/
https://instagram.com/natcagreatlakes/
NWP
https://www.facebook.com/groups/WesternPacificNATCA/
NRX
https://www.natca.org/category/NRX/
NNM
https://www.instagram.com/natca_nnm/
https://www.facebook.com/natcannm
RNAV