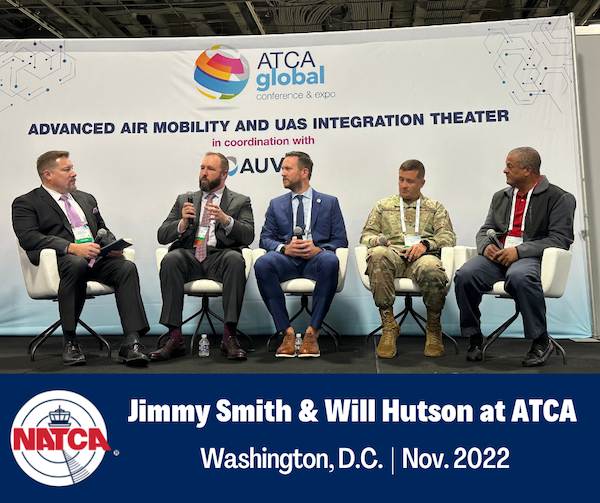 Article 114 Representatives Jimmy Smith and Will Hutson Speak on UAS
During ATCA Global, NATCA Article 114 Reps. Jimmy Smith (Unmanned Aircraft Systems Rep.) and Will Hutson (Urban Air Mobility & Unmanned Aircraft Systems [UAS] Traffic Management Rep.) participated in panels regarding UAS and emerging technologies in the airspace.
Hutson spoke on a panel titled "Infrastructure for AAM-UAS" on Nov. 8, and Smith spoke on a panel titled "Untangling Future Vision from Present Reality" on Nov. 9. The two also spoke together on a panel titled "Government Connectedness: Air Traffic Controllers." That panel was moderated by Eric Jennings (Rules and Regulations Group, ATO, FAA), and included two representatives from the U.S. Air Force: Capt. Pedro Romano (Airfield Operations Officer) and Walter Childress Jr. (ATC Watch Supervisor). The panel discussed how different segments of the U.S. government can work together to promote the safety of the National Airspace System.
PHOTO left to right: Eric Jennings, Jimmy Smith, Will Hutson, Pedro Romano, Walter Childress Jr.