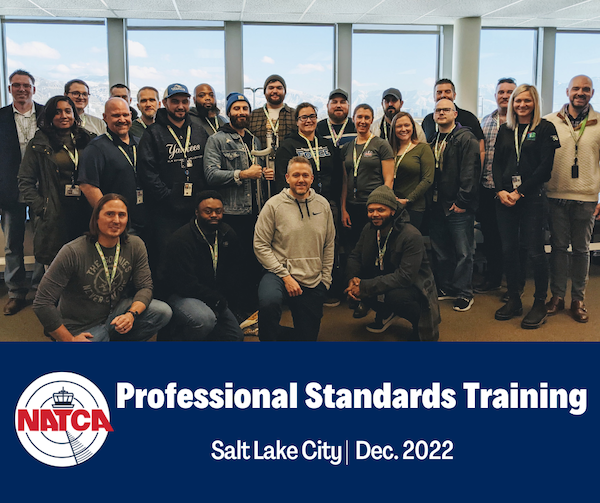 Professional Standards Trains 24 Members in Salt Lake City
NATCA's Professional Standards (PS) Committee hosted a three-day training for 24 members at Salt Lake Center (ZLC) in Utah, Dec. 6-8. The committee and instructors Lydia Baune (Spokane ATCT, GEG), Patrick Carter (Dallas/Fort Worth TRACON, D10), and Chris Keyes (Washington Center, ZDC) welcomed the new members to the PS team and thanked them for volunteering to serve NATCA and their profession in a unique and powerful way.
"Attending the professional standards training was an excellent reminder of the intention behind the program and the spirit of why we do what we do," Kansas City District PS Chair Lisa Cunningham (Kansas City International ATCT, MCI) said. "I came expecting to share insight and experience, and I left feeling even more excited for the program than I was before. Professionalism is at the heart of what we do as air traffic controllers, and I am thankful to participate in this program that makes our profession, facilities, and work life better every day."
The training teaches new members of the PS team to use methods and strategies to help their colleagues and NATCA brothers and sisters build appropriate professional and working relationships.
"I believe understanding is a foundational piece to having a relationship," Curtis Janssen (Minneapolis TRACON, M98), who attended the training, said. "Professional Standards has provided a great way to approach each situation in a structured and intentional way."