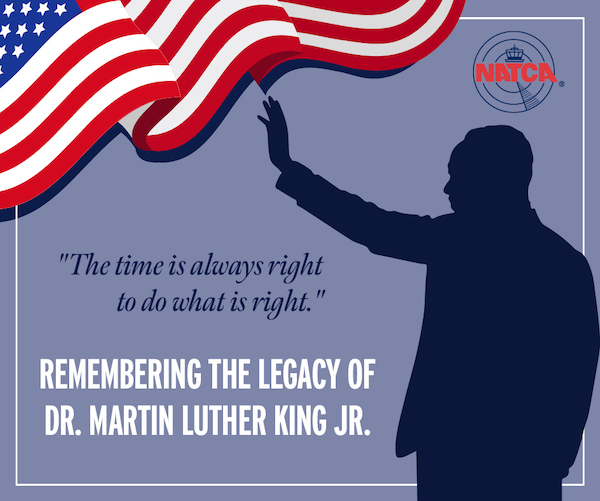 Happy Martin Luther King Jr. Day
On Jan. 16, we honor the legacy of Dr. Martin Luther King, Jr., a social activist and Baptist minister who was a key leader in the American civil rights movement from the mid-1950s until his assassination in 1968. He was an inspirational proponent of organized, nonviolent resistance, and used these tactics to seek an end to racism, poverty, and injustice.
Dr. King saw the civil rights movement and the labor movement as partners in the fight for progress. During his final days, King traveled to Memphis to stand in solidarity with striking African American sanitation workers who belonged to AFSCME Local 1733. Read more about King's work with AFSCME here.
NATCA understands the importance of unions in guaranteeing fair wages, benefits, and good working conditions. We're proud of our members for advocating to improve our professions and protect the National Airspace System.
As we reflect on the life and legacy of Dr. King, let us not forget what he taught us about the power of collective action. We must continue to advocate for each other because, as Dr. King said, "whatever affects one directly, affects all indirectly." Read more about King's work with AFSCME and other labor movements here.