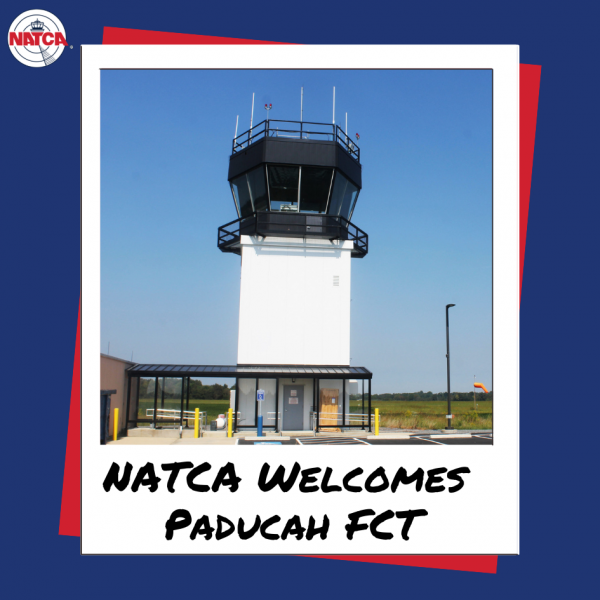 NATCA Welcomes Paducah FCT to Our Union Family
NATCA is excited to welcome Paducah Federal Contract Tower (PAH) to our Union family! PAH is the tower over Barkley Regional Airport, located in western Kentucky a few miles south of Illinois and east of Missouri. PAH was commissioned in 1988. PAH's four controllers and one manager staff the facility's Class Delta airspace 365 days a year, and its overlying radar facility is Memphis Center (ZME).
PAH has a single Flight Base Operator on the airport that offers many services including flight training. While there is no flight school located at the airport, some of the facility's traffic comes from flight schools from many other states and cities that enjoy the many instrument approaches available. PAH has a variety of aircraft that visit the airport from general aviation, business and corporate aircraft, military aircraft, and air carrier aircraft, as well as several aircraft that call PAH home. PAH has two daily flights on Contour Airlines to and from Charlotte, N.C.
"There are two hospitals just outside our Class Delta airspace, so routinely we have transitions to and from them," PAH FacRep Jason Hayes said. "We do have a medevac helipad base inside our airspace which is very common when the hospital helipads are occupied, and it is a primary base for our local medevac helicopter."
Annually, the city of Paducah, known as Quilt City USA, hosts one of the world's largest quilt festivals, to which visitors from all over the globe travel. The many barge and river businesses in the region host an annual symposium which brings a variety of jet and turboprop aircraft filling up almost all of PAH's ramp space. These two main events, in addition to other festivals throughout the year, are the main two that the facility plans for increased traffic.
"Thank you for accepting us into the NATCA family, and we look forward to the many years ahead," Hayes said.