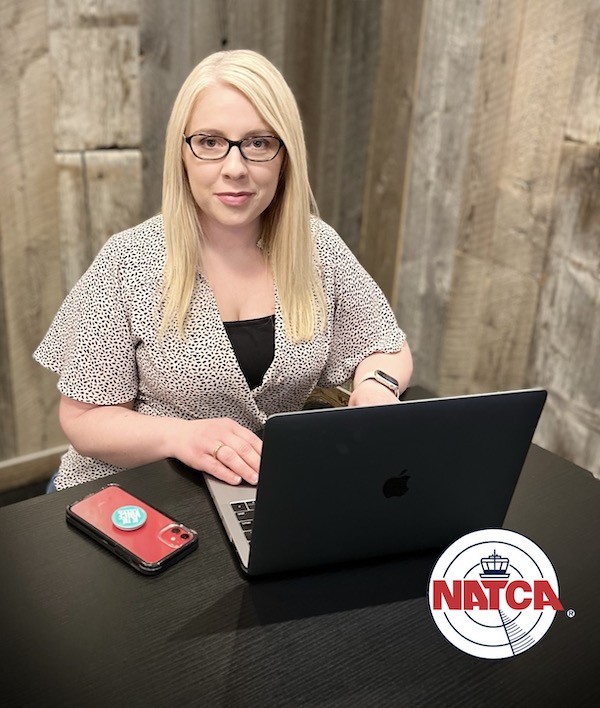 Meet the New Chair of the National Benefits Committee: Jen Rivera
Jen Rivera (Indianapolis Center, ZID) became chair of the National Benefits Committee in the fall of 2022. She has hit the ground running, coordinating new benefits for our Union brothers and sisters. Recently the Benefits Committee launched two new benefits, discounts for the SNOO Smart Sleeper Bassinet and Sylvan Learning Center that are exclusive to NATCA members and their extended families.
Today we're highlighting Rivera in her new role, talking about becoming active as a NATCA member and leader in our Union.
How did you first become active in NATCA or what was your first role serving on committees as a rep?
I became active in NATCA at the local level, and it has only built from there. Indianapolis Center (ZID) is my first and only facility. I have been here for 14 years, and the last 7, I have served as the local secretary. Over the last two and a half years, I have been on the Great Lakes Leadership Team where I manage the logistics for the team and the Great Lakes Region. I have been active legislatively for many years. I have been a member of the National Benefits Committee since 2020.
What do you hope to accomplish as you lead the National Benefits Committee?
My hope is to continue the great work of my predecessor John Bratcher (Fort Smith ATCT, FSM) and also bring on new benefits that will serve our members and their families. In addition to adding new benefits, I also want our committee to continue to educate and promote to our membership what is offered and how to take advantage of their benefits. I feel privileged to step up and lead the National Benefits Committee.
Who are or have been your role models for leading NATCA's activism and efforts?
I have several role models. The first is my aunt, Veronica Stein, retired from West Palm Beach ATCT (PBI). She told me when I was getting hired to join the Union, and that it would be the best money I would ever spend investing in my career. My grandpa, a former Professional Aviation Safety Specialists (PASS) representative, gave my aunt the same advice. I signed up as fast as I could out of the FAA Academy. From there, Marc Schneider (ZID) — who was a trainer, my FacRep, and a fellow committee member — has been an excellent mentor and advocate for growing in NATCA. Erin Phelps (Minneapolis Center, ZMP) is the reason I became legislatively active. Just a simple chat with her got me hooked. Bratcher's enthusiasm and passion was infectious when it came to securing benefits for our hard-working members on the National Benefits Committee. Lastly, Great Lakes Regional Vice President Drew MacQueen has been an invaluable part of my growth and learning as I have taken on leadership roles locally, within the region and now nationally. He has always been a huge inspiration and motivator to progress within NATCA.
What has been the most pivotal or standout moment during your time advocating for NATCA members?
Working on a training review board (TRB) — and knowing a person's career and livelihood are on the line, along with the safety of the flying public — is a standout moment for me. We are here to ensure the correct training process was followed. If the training process is followed and the person just can't do the job, we have to do what is right for everyone involved no matter how difficult. If the training process was not executed properly, we then have to make sure they go back and do it right. If we don't correct the process, then we would never know if that person had what it takes to be successful, and we're also saying the same can happen to someone else.
What advice do you have for NATCA members who are new to the Union or are just learning about how to serve on behalf of our members and profession?
Read the contract and understand what the Union can and cannot do for you. Read the emails and updates that are sent out. If you don't understand something or want more information, ask. Vote in all of the elections — NATCA, local, state and Federal. Every one of them will have an effect on your job.
What would you like to share about yourself personally?
I come from a family of FAA employees: My grandfather and brother were in Technical Operations, my great uncle was in the Flight Standards District Office, and my aunt and uncle were controllers. I appreciate the opportunities I have been given to make a difference in our workplace through NATCA, and know that I wouldn't have had those opportunities if I wasn't a Union member. Now I look forward to hopefully making a difference in our members' personal lives through the benefits our committee can find for them and their families.