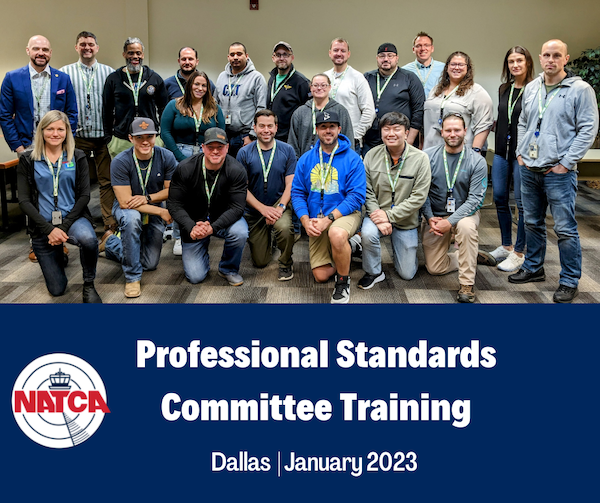 Professional Standards Hosts New Member Training in Dallas
NATCA's Professional Standards (PS) Committee hosted a three-day training for 18 members at Fort Worth Center (ZFW) in Dallas, Jan. 24-26. PS Committee members Lydia Baune (Spokane ATCT, GEG), Patrick Carter (Dallas/Fort Worth TRACON, D10), and Christopher Keyes (Washington Center, ZDC) led the training, welcoming the new members to the team and thanking them for volunteering to serve NATCA in such an important way.
"The professional standards training teaches the necessary tools and techniques required to go back to our locals and confidently handle issues at the peer-to-peer level," PS Dallas District Chair Kristi Hopson (Tulsa ATCT, TUL) said. "The level of support and backing behind the professional standards program is unmatched. Participants will leave feeling educated and supported as they take on their important new role."
"Professional Standards has the potential to fundamentally change the culture at our facility, and I look forward to the opportunity to get the program started," Greensboro ATCT (GSO) member and new PS team member Adam Garrison said.
The PS program helps to maintain, promote, and inspire professionalism of aviation safety professionals throughout the National Airspace System. The program uses peer-to-peer mediation, conflict resolution, and mentoring to achieve these goals. Members interested in learning more about the PS program should ask their local PS Committee member, visit www.natca.org/ps, or email ps@natca.net.