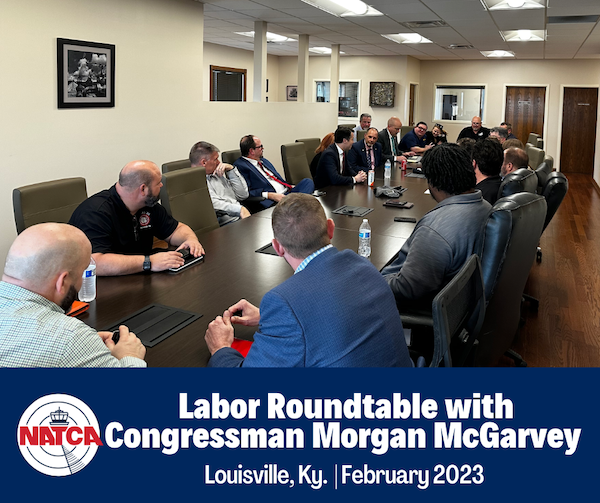 Louisville Standiford ATCT NATCA Member Attends Labor Roundtable with Congressman Morgan McGarvey
NATCA Louisville Standiford ATCT (ZDF) legislative representative James Trubisky attended a Labor Roundtable with U.S. Representative Morgan McGarvey (Ky., 3). The roundtable included several other local union leaders and was an exciting opportunity to engage directly with the Congressman.
"I was able to speak to the group on issues affecting NATCA and the National Airspace System, especially related to potential budget issues, shutdowns, and staffing," Trubisky said. "The Congressman and others were very receptive to this discussion.
"He thanked NATCA for our support, and we discussed bringing him out for another facility visit in conjunction with our airspace redesign and the naming of fixes to honor former Rep. John Yarmuth and local Tuskegee Airmen.
"Being invited to this indicated that Congressman McGarvey is a friend to NATCA and has a great deal of respect and appreciation for our organization."
After the event, McGarvey made a statement regarding the roundtable on Twitter: "I'll never stop fighting for the rights of working Americans."
Other labor groups represented included unions for teachers and firefighters; the Teamsters; International Union, United Automobile, Aerospace and Agricultural Implement Workers of America (UAW); and International Brotherhood of Electrical Workers (IBEW).
Learn more about becoming a legislative activist on behalf of NATCA and our profession from the National Legislative Committee here.