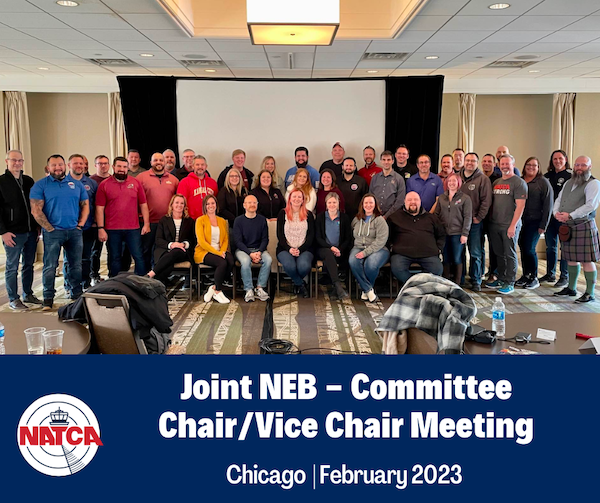 NATCA Leaders Gather in Chicago for Joint NEB-Committee Chair/Vice Chair Meeting
For the first time since 2019, NATCA hosted an in-person meeting of all the NATCA Committee Chairs and Vice Chairs. NATCA President Rich Santa and Executive Vice President Andrew LeBovidge spoke to the many NATCA leaders present at the meeting, which most of the National Executive Board (NEB) attended. The focus of the meeting was a facilitated discussion about NATCA's many active and diverse committees, NATCA's organizational goals, inter-group relationships, and other pertinent issues.
"We have a very impressive group of leaders within our Union and gatherings like these will ensure everyone is providing maximum benefit to the membership and our organization," Boots on the Ground (BOTG) and Retired NATCA Active Volunteers (RNAV) Chair Tom Thompson said.
"Overall, it was an important and much needed meeting and I look forward to attending the forthcoming regularly scheduled committee chair calls," Communications Committee Chair Shannon Lyman said.
NATCA members can log into the members' side of the website to learn more about NATCA's committees and how to get involved.