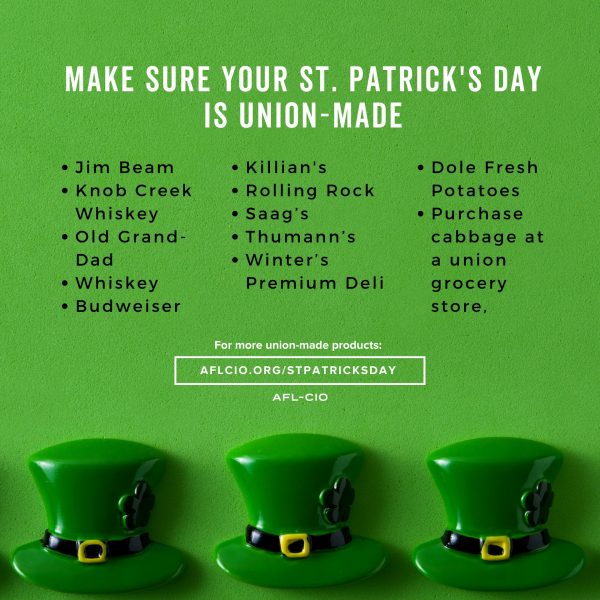 Union-Made St. Patrick's Day
St. Patrick's Day is quickly approaching. If you're planning to partake in the festivities, make sure to buy union-made food and beverages. The AFL-CIO and Labor 411 put together a list of union-made beer, corned beef, whiskey, and other accompaniments.
Corned Beef
Saag's
Thumann's
Winter's Premium Deli
Potatoes and Cabbage
Dole Fresh Potatoes
Purchase cabbage at a union grocery store like ACME, Albertsons, Baker's, City Market, Carrs, Fred Meyer, Food 4 Less, Food Lion, Foods Co, Fred Meyer, Fry's, Gerbes, Giant, Haggen, Hannaford, Heirloom Market, Jay C Food Store, Jewel-Osco, King Soopers, Kroger, Mariano's, Martin's, Metro Market, Meijer, Pay-Less Super Markets, Pavillions, Pick'n Save, Ralph's, Randalls, Ruler, Safeway, Shaws, Smith's, Star Market, Stop & Shop, QFC, Tom Thumb, Vons.
Beer
Anheuser-Busch, Black Eye Ale, Black Hawk Stout, Blue Heron Pale Ale, Boxer, Budweiser, Busch, Butte Creek Organic Collection, Carmel Wheat, Clear Creek Ice, Dundee Craft, Eye of the Hawk, Genesee Brewery, Henry Weinhard's, Honey Amber Rose, Huber, Icehouse, Landshark Lager, Lazy Mutt Farmhouse Ale, Leinenkugel Brewing Co., Lionshead, Mad River Brewing Co., Mendocino Imperial, Michelob, Miller, Milwaukee's Best, Minhas Oktoberfest, Mendocino-Talon-Double-IPA, Natural Ice & Light, O'Doul's, Olde English 800, Pabst, Peregrine Pilsner, Pyramid, Red Dog, Red Tail Ale, Rolling Rock, Sam Adams, Shergill IPA, Shock Top, Talon Extra Select Double IPA and White Hawk Select IPA.