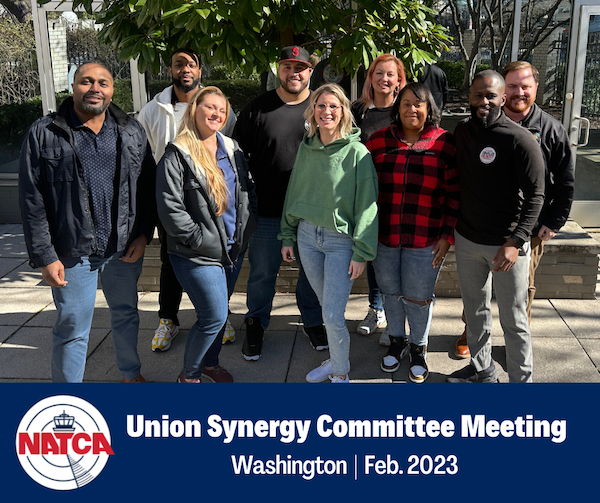 Union Synergy Committee Meets in Washington
NATCA's Union Synergy Committee (US) met at the NATCA National Office in Washington on Feb. 13-14. The committee members, led by US co-chair Maurice Franklin (Potomac TRACON, PCT) discussed outreach to NATCA members at upcoming events, ways to build awareness and share knowledge throughout the year, and increasing industry level involvement in NATCA's commitment to inclusivity.
The US works to promote and maintain a Union that is inclusive of all members and thrives on the talents of our diversity. Through research, awareness, education, and with a clear understanding of our professional/conduct codes and the NATCA constitution, US works to recognize and address the effect of bias on the work culture and climate amongst all NATCA's safety professionals.
Learn more about Union Synergy and how to get involved at the committee's web page.
PHOTO (left to right): Britton Smith (ESW-NRX), Committee Co-Chair Maurice Franklin (PCT), Amanda Richardson (ZOA), Committee Co-Chair Alex Navarro III (NNM RVP, ZSE), Amy Sayers (FLL), Karena Marinas (ZLA), Kym Towns (I90), Jamaal Haltom (LAS), and Nick Daniels (NSW RVP, ZFW).