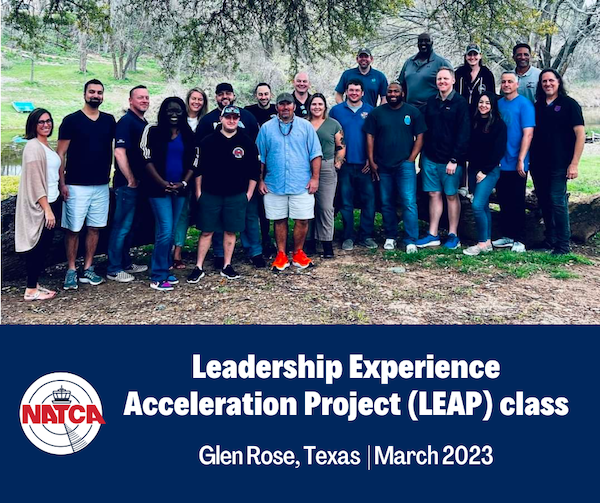 LEAP Class Trains NATCA Leaders for Success & Excellence
NATCA leaders from all over the country gathered with longtime lead instructor Scott Airitam, from Leadership Systems, in Glen Rose, Texas, for the Leadership Experience Acceleration Project (LEAP) class in March. The LEAP class is an investment in our members and the future of NATCA. This training helps develop principle-centered leaders that will carry our Union into the future. Assisting Airitam as the NATCA instructors were Southern Alternate Regional Vice President (ARVP) Dan McCabe and Critical Incident Stress Management Committee Chair Sarah Grampp (Kansas City Center, ZKC), with Northwest Mountain RVP Alex Navarro and Southern RVP Jim Marinitti assisting as mentors for the course.
"This LEAP class included a fantastic bunch of selfless and talented leaders of our Union," Grampp said. "It is always a great experience to witness them coming together to strengthen their skills for the betterment of our Union and profession."
With this class, more than 400 NATCA members have completed LEAP training since it was introduced in 2007.