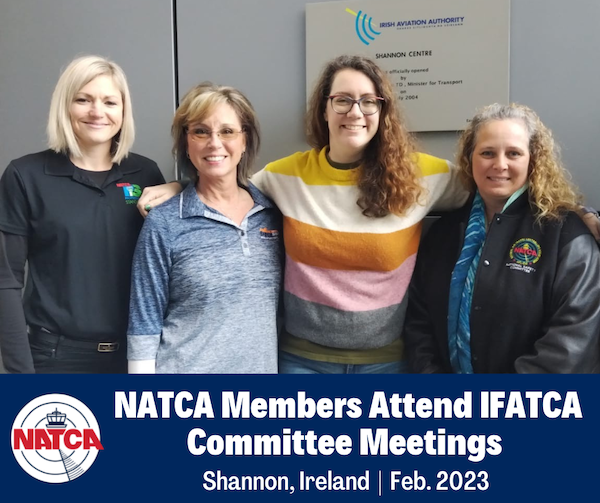 NATCA Members Participate in IFATCA Committee Meetings in Shannon, Ireland
In February, NATCA's representatives to the International Federation of Air Traffic Controllers' Associations' (IFATCA) Technical and Operations Committee (TOC) and Professional and Legal Committee (PLC) joined in meetings of those committees in Shannon, Ireland, to review their research that will be presented at the upcoming IFATCA annual conference in May.
NATCA members Jaymi Steinberg (Washington Center, ZDC) and Betsy Beaumont (Fort Worth Center, ZFW) represented NATCA at the TOC meeting. Steinberg serves as the chair of IFATCA's TOC. Retired NATCA member from Indianapolis Center (ZID) Michelle Trudeau represented NATCA at the PLC meeting.
In addition, NATCA Professional Standards Committee member Lydia Baune (Spokane ATCT, GEG) spoke with both committees and talked about the Professional Standards program as well as initiatives like "Turn Off, Tune In," encouraging members of these IFATCA committees to bring these initiatives back to their country's air navigation service providers and facilities.
To learn more about IFATCA, visit their website.
Photo caption: (left to right) Lydia Baune, Betsy Beaumont, Jaymi Steinberg, and Michelle Trudeau