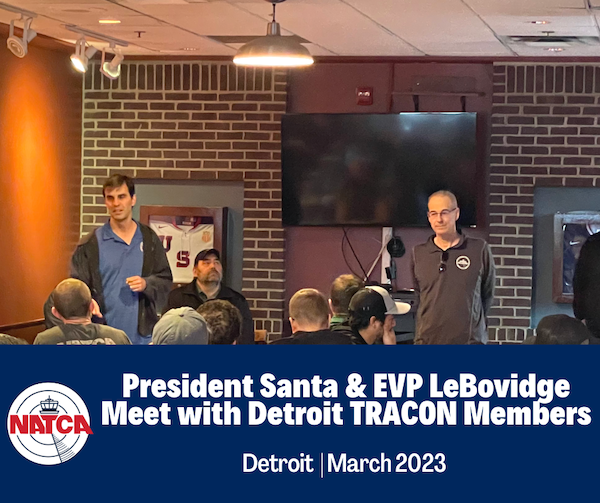 President Santa & EVP LeBovidge Meet With Detroit TRACON Members
NATCA President Rich Santa and Executive Vice President Andrew LeBovidge attended a Detroit TRACON (D21) membership meeting in March. Santa and LeBovidge met with members to answer their questions and discuss issues at the national level with local members.
"The D21 members were excited to hear directly from our Union's top leaders about issues that affect not just them, but NATCA's membership and the National Airspace System at large," D21 FacRep Alex Huttenga said. "They answered questions and helped many of our members better understand NATCA's work on pressing issues, including staffing."
Detroit TRACON (D21) is a Level 10 facility commissioned in March 1986. The aviation safety professionals there are responsible for approximately 40 miles, surrounding Detroit Metro/Wayne County ATCT (DTW), and up to 17,000 feet, including a portion of Canada. They interact with many facilities in the surrounding area, including Toledo Express ATCT (TOL), Lansing ATCT (LAN), Flint Bishop ATCT (FNT), and Cleveland Hopkins ATCT (CLE).