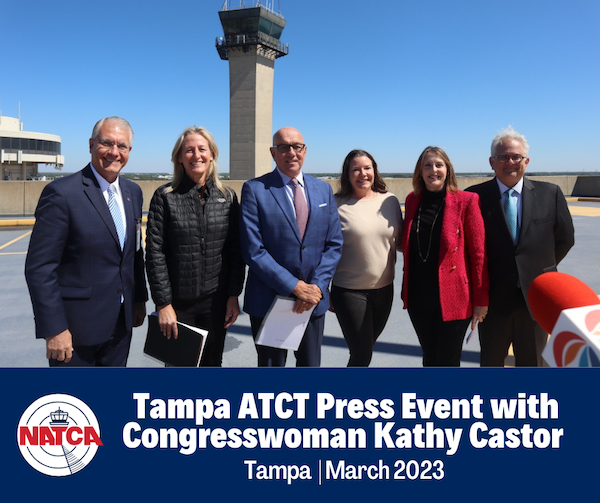 TPA FacRep Shares Controller Struggles, Priorities at Press Conference
NATCA Tampa ATCT (TPA) FacRep Jen McCoy spoke on behalf of our Union and profession to members of the media and local airport officials at a news conference hosted by Congresswoman Kathy Castor (Fl., 14) at Tampa Airport on Monday, March 20.
"Air traffic controllers are completely dedicated to the safety of the flying public," McCoy said, as she described some of the issues faced by controllers working in the tower, including climbing more than 20 flights of stairs to work due to frequent elevator outages.
TPA is one of the busiest airports in the country, but still has one of the oldest towers in the national airspace system, built more than 50 years ago.
"We've had all sorts of issues with plumbing, sewage, fumes, electrical, elevator outages. You name it, we've had it," McCoy said. "It's a little demoralizing to have to come into work and have to face these issues again and again."
In his recent budget proposal, President Joe Biden asked lawmakers to allocate $662 million for FAA facilities replacement, including the tower at TPA.
Castor said she finally got the issue on President Biden's radar during his recent visit to Tampa.
"President Biden, to his credit, he took my packet, and before we had landed back here in Tampa, he said 'Kathy, I'm gonna take care of this,'" Castor said.
"As you can imagine, it's very busy and very complex, and we just believe that the controllers need to be in an environment that enables them to focus on the job at hand," McCoy said.
Read a news story and video from WFLA News 8 covering the press conference here.
Watch a video from Tampa Bay Fox Channel 13 here, or on NATCA's YouTube.
Photo caption: (left to right) Tampa Airport Executive Vice President of Operations and Customer Service John Tiliacos, NATCA Tampa ATCT (TPA) FacRep Jen McCoy, Tampa Airport Chief Executive Officer Joe Lopano, NATCA TPA Legislative Representative Andrea Benninger, Congresswoman Kathy Castor (Fl., 14), Hillsborough County Commissioner and TPA Board of Directors Asst. Secretary/Asst. Treasurer Harry Cohen