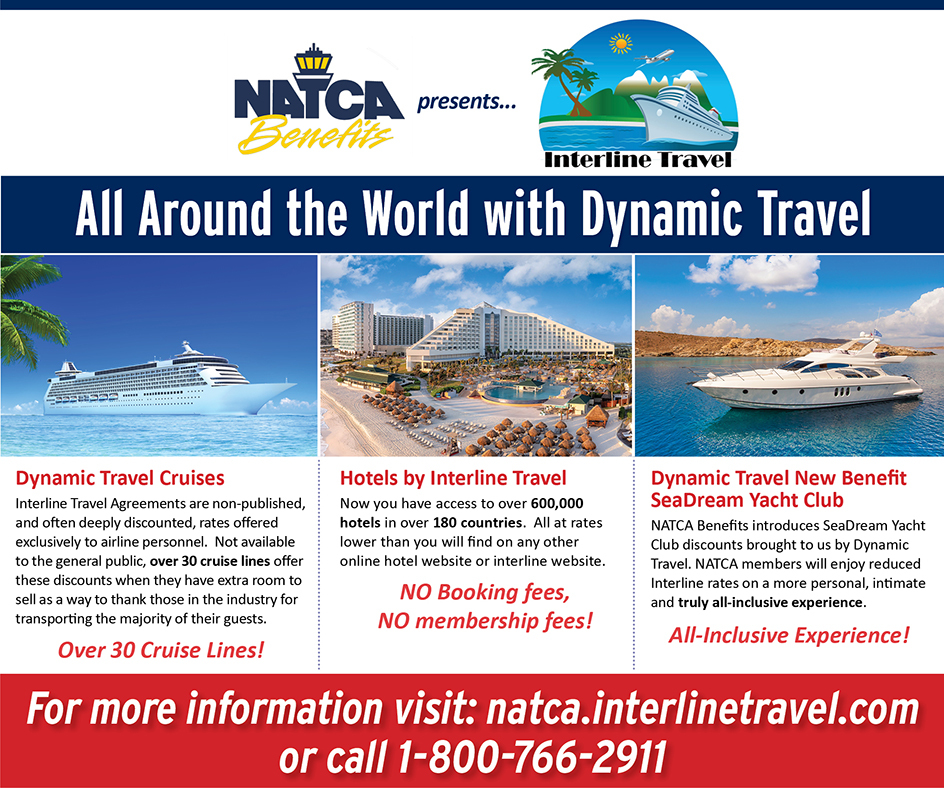 NATCA Benefits: Exclusive Discounts on Hotels, Cruises, and More From Interline Travel
NATCA Benefits has partnered with Interline Travel to give members access to non-published, and often deeply discounted, rates not available to the general public.
With Interline Travel, members can explore discounted rates for cruises, hotels, and SeaDream Yacht Club.
Dynamic Travel Cruises:
Interline Travel Agreements are non-published, and often deeply discounted, rates offered exclusively to airline personnel. Not available to the general public, over 30 cruise lines offer these discounts when they have extra room to sell as a way to thank those in the industry for transporting the majority of their guests.
Dynamic Travel new benefit SeaDream Yacht Club:
It's not cruising, It's yachting! Now NATCA members will enjoy reduced Interline rates on a more personal, intimate and truly all-inclusive experience, with an unmatched average of 1 crew member per guest.
Hotels by Interline Travel:
Access to over 600,000 hotels in over 180 countries at rates lower than you will find anywhere else, plus no booking or membership fees. In addition, you may book these hotels for your children, extended family, friends and others, even if you are not traveling with them.
Visit Interline Travel and register for an account today! If you have any troubles with the website, call them at 1-800-766-2911.