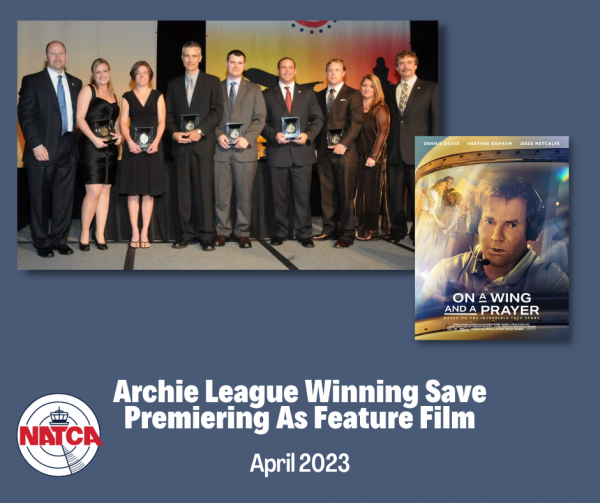 New Feature Film Highlights 2010 Archie League Award-Winning Save
"This is like something out of a movie," said former Southern Regional Vice President Victor Santor (who became a retired NATCA member in 2016) from the Communicating for Safety stage in 2010 as he presented the Archie League Medal of Safety Award for the Southern Region to the Florida controllers who saved the lives of four passengers of a Super King Air 200 when its pilot died during the flight.
Now, that story has become a feature film starring Dennis Quaid called "On a Wing and a Prayer" that is scheduled to be available for streaming on Prime Video starting April 7.
Miami Center (ZMA) controllers Jessica Anaya and Nathan Henkels and Fort Myers ATCT (RSW) controllers Dan Favio and Carey Meadows (currently at Standiford ATCT, SDF) were honored with the award for their teamwork and quick thinking in assisting passenger Doug White, whom Quaid will portray in the film.
Read the full story of the award-winning event, read the transcript of the save, and watch the Archie League presentation video here.
Watch the official trailer for the film here.
Read more about the upcoming film here.