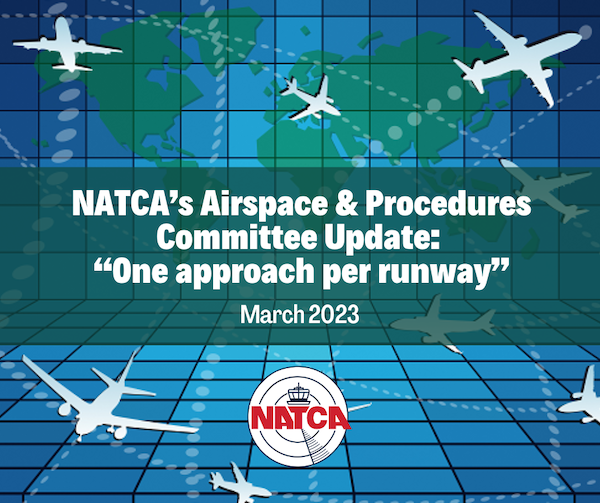 NATCA's Airspace & Procedures Committee Keeps the NAS Moving Toward Performance-Based Future
The National Airspace and Procedures Committee (NAPC) serves as the Union's focal point regarding all aspects of airspace initiatives, including development, amendment, and implementation of air traffic and instrument flight procedures and airspace within the National Airspace System (NAS).
Josh Haviland is NATCA's Article 114 Representative for Airspace Representative and for Established on Required Navigation Performance (EoR). He also serves as chair of the NAPC, with Deputy Director of Safety & Technology Mark McKelligan as Vice Chair of the committee.
Also serving as members of the NAPC are Article 114 National Instrument Flight Procedures Criteria Rep Bennie Hutto (Potomac TRACON, PCT), Article 114 Representative for NOTAM Modernization Matt Trimble (Columbia ATCT, CAE), National Procedures Rep Scott Fineron (Northern California TRACON, NCT), Article 114 National Trajectory Based Operations Representative Phil Hargarten (S46), and Article 114 Navigation Representative Jeff Plendl (Los Angeles ARTCC, ZLA).
Hutto recently provided the NAPC with updates on the ongoing discussions about the future of satellite-based navigation and Instrument Approach Procedure (IAP) charts.
Within the FAA's Performance Based Operations Aviation Rulemaking Committee (PARC), NATCA representatives are among those providing subject matter expertise to the PARC's Navigational workgroup, discussing and determining how to move forward with multiple performance-based navigation (PBN) initiatives.
For one such initiative, FAA Flight Standards recently shared with the workgroup a proposal for "one approach per runway," using an Instrument Approach Procedure (IAP) currently in development at Houston George Bush International Airport (KIAH). The "one approach per runway" concept may benefit both pilots and controllers. There are many cases where all procedures for one runway may have differing initial or intermediate segment path definitions, yet the final approach ground tracks for those procedures are identical.
The final approach operation may be an Instrument Landing System (ILS), Ground Based Augmentation Landing System (GLS), Localizer Performance with Vertical Guidance (LPV), Lateral Navigation (LNAV)/Vertical Navigation (VNAV), LNAV-only or even RNP Authorization Required (AR) APCH.
The proposed concept is that all these final approach operations could be published on one approach chart, with multiple lines of minima based on the sensors available. "One approach per runway" could also embrace the available initial and intermediate segments. This type of procedure publication could significantly reduce the number of approach charts for an airport with multiple runways, like KIAH, and build upon previous operational implementations developed by the U.S. military at its various bases. It could also reduce the required number of FAA annual procedure reviews for airports employing this technique. The Navigational workgroup agreed to continue exploring the concept.