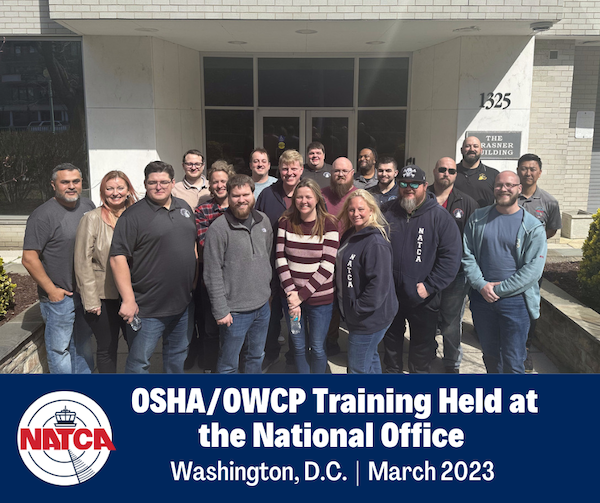 OSHA/OWCP Training Class Held at the National Office
The NATCA Academy held an OSHA/OWCP class at the NATCA National Office in March, which provided participants a chance to acquire the training they would need to address employee safety issues on the job.This group is composed of NATCA facility presidents, regional and facility OSHA and OWCP representatives, and interested members who took the NATCA Academy course for Occupational Safety and Health (OSHA) and Office of Workers Compensation (OWCP) joint training. This training also gave attendees the training they would need to address OWCP claims at their facilities.
About the training, Pete Alvarez (FS2), the newly appointed NATCA AFSS OSHA Representative stated, "Attending the class definitely opened my eyes to some of the shortcomings at my own facility, but provided the resources and knowledge needed to address these things with management confidently. Uncoincidentally, we're having our first local-level OSHA meeting in a week after not having been conducted since before COVID."
Alvarez added, "In addition, the class covered a lot of ground on pretty common issues, from filing UCR's to injury reports. The discussion amongst peers helped to increase my knowledge and confidence as I transition into my new position. I know that after this class, NATCA Alaska Flight Services leadership is excited to send more BUE's from our facilities to receive the training!"
PHOTO: (front row, left to right) Bobby Scurlock (FS1), Eric Fromm (PSC), Ashley Toth (ZDC), Lauren Alexander-Farler (TPA), (second row, left to right) Julian Olivares (P50), instructor Karena Marinas (ZLA), Jairek Lyons (ZAB), instructor John Thompson (ZDC), Paul Hornak (SFO), Gregory Sherven (ZMA), Matthew Lastwika (SBA), (third row, left to right) James Wargo (ADW), Paul Valenstein (MAF), Peter Alvarez (FS2), Timothy Hamilton (FLO), Kevin Seong (ZLA), (fourth row, left to right) Hansel Krach (CLE), Ian Lazarus (VNY), and instructor Mark Sellek (ZJX).