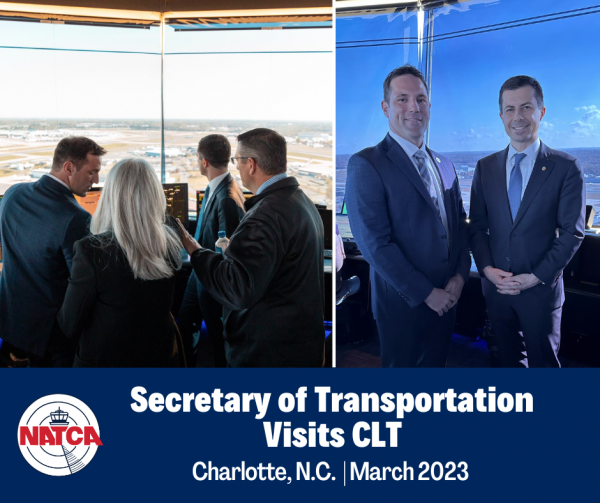 Secretary of Transportation Pete Buttegieg Visits CLT
Secretary of Transportation Pete Buttegieg visited Charlotte ATCT/TRACON (CLT) on Wednesday, March 29. During his visit officials representing NATCA, Charlotte Douglas International Airport, and local FAA management gave an overview of key infrastructure projects and operations at CLT.
Buttegieg asked NATCA FacRep Anthony Schifano and the tour team about staffing levels at CLT.
"We pointed out that even though CLT may be considered one the better staffed facilities, airplanes departing CLT have to fly into airspace in the NAS that is understaffed," Schifano said. "We pointed out that we currently have 1,200 fewer certified professional controllers nationwide than we had a decade ago."
The team also reviewed construction projects at CLT, including the North End Around Taxiway (NEAT) Project, the East/West Taxiway Project, and the De-ice/holding Bay. These projects will allow for reduced carbon emissions, increased efficiency, and enhanced safety.
NATCA CLT representatives thanked Buttegieg for making air traffic control infrastructure a priority, and for this administration's work having a significant impact on NATCA facilities across the NAS.
"Good design and wise investments can reduce the chances for close calls or crashes," Buttegieg posted on Twitter after the visit. "American aviation is the safest in the world because we never take it for granted and we always keep working to improve it for the future."
The tour included a briefing for Buttegieg on Automated Electronic Flight Strips (AEFS), Airport Surface Detection Equipment, Model X (ASDE-X) and how critical surface technology is to the National Airspace System (NAS). "Being able to show this technology and how it interacts with Runway Status Lights (RWSL's) was an excellent opportunity for the Secretary to see realtime how these systems work," Schifano said.