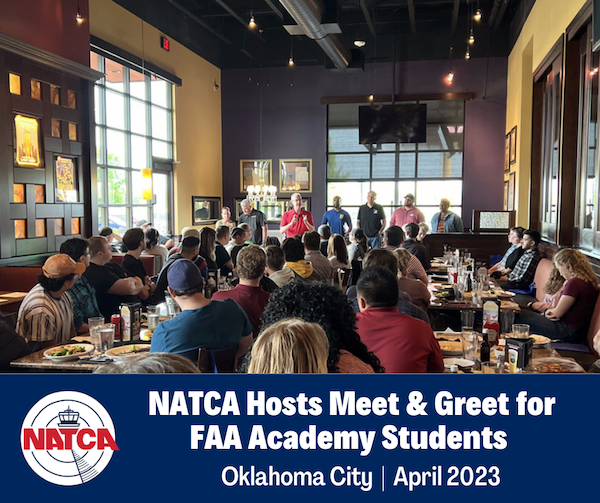 NATCA EVP LeBovidge and Other Union Leaders Meet with FAA Academy Students in Oklahoma City
On April 19, NATCA hosted an in-person meet & greet event at BJs Restaurant and Brewhouse in Oklahoma City. The event was attended by more than 40 ATC students from the FAA Academy at the Mike Monroney Aeronautical Center in Oklahoma City. At the event, the students had the opportunity to meet with NATCA Executive Vice President Andrew LeBovidge, Northwest Mountain Region RVP Alex Navarro III, Organizing Committee Chair John Bratcher (Fort Smith ATCT, FSM), Southwest Region Reloaded Rep. Saja Cox (Oklahoma City ATCT, OKC), Union Synergy Co-Chair Maurice Franklin (Potomac TRACON, PCT), National Training Rep. Jamaal Haltom (Las Vegas ATCT, LAS), and Professional Standards Committee Member Christopher Keyes (Washington Center, ZDC).
The NATCA representatives talked to those in attendance about the different aspects of NATCA and answered questions from attendees.