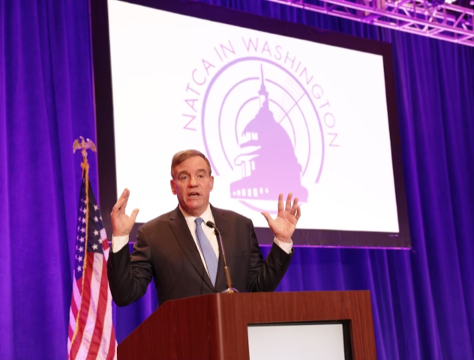 Senator Warner Takes the Stage at NiW
On Wednesday morning, U.S. Senator Mark Warner of Virginia addressed NATCA in Washington attendees.
Warner has represented Virginia in the Senate since 2009. He is the Chairman of the Select Committee on Intelligence. He also serves on the Senate's Finance Committee, the Banking, Housing & Urban Affairs Committee, where he is the Chair of the Subcommittee on National Security and International Trade and Finance, the Budget Committee, and the Rules Committee.
Prior to serving in the Senate, Warner was the Governor of Virginia from 2002 to 2006.
Sen. Warner is the definition of a NATCA champion—someone who understands our work, fights for our shared priorities, and doesn't back down.
He literally stood beside us during the 2018-2019 government shutdown, joining NATCA members at a press conference at DCA and calling on the Senate to vote to end the shutdown as soon as possible.
He's authored several bills to provide backpay to federal employees and protect us from foreclosures, evictions, and loan defaults during shutdowns.
He consistently advocates for the rights, pay, and benefits of federal employees and our families, and has successfully fought against attempts by previous administrations to cut retirement and other benefits.
Sen. Warner also played a key role brokering the Infrastructure Investment and Jobs Act, also known as the Bipartisan Infrastructure Law. This legislation, signed into law at the end of 2021, provided $5 billion to upgrade FAA facilities and equipment and an additional $25 billion for airport improvements.
Read more about the 2023 NiW event here.