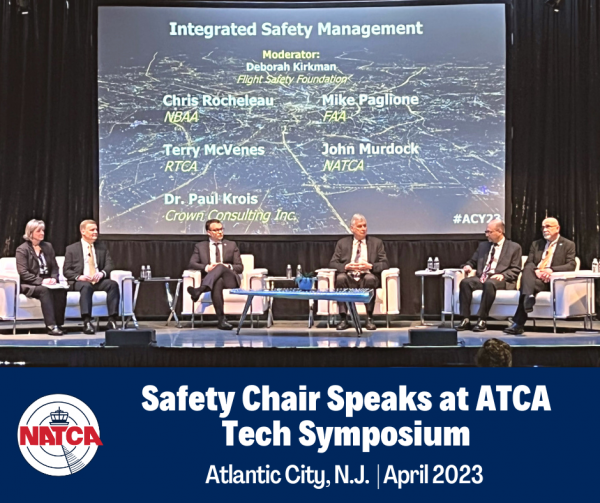 Safety Chair at ATCA Tech Symposium: "Moving the Safety Needle to the Safer Side"
NATCA Safety Chair John Murdock spoke at the Air Traffic Control Association's Technical Symposium in Atlantic City, N.J., on April 27, as part of a panel focusing on Integrated Safety Management. The panel discussed the technical safety issues and challenges to enable safe operations in the future, as the NAS continues a layered approach to safety controls, greater reliance on data, and emphasis on risk detection and mitigation.
"Safety is at our core and really drives what we do. Integrated safety in general is something that we work really hard to do just about every day," Murdock said. "In looking at how the Air Traffic Organization (ATO) and NATCA interact in air traffic operations, it is really important that we establish feedback channels to identify and mitigate risk in our air traffic system.
"We've been advocating for and working towards integrating with not just the ATO, but the other lines of business. How do we work together and have one Safety Management System (SMS) policy?
"A simple change in the airport environment might not be a simple change in the air traffic world. We want to bring everybody in and talk about and identify risks, see what everyone's interests are in operations, and find how we move that safety needle to the safer side. We are constantly advocating for that."
Other panelists included National Business Aviation Association (NBAA) Chief Operating Officer Christopher J. Rocheleau; RTCA President and CEO Terry McVenes; and the FAA Aviation Research Division's Mike Paglione. National NextGen Representative Adam Rhodes also represented our Union at the symposium.  ATCA's premier technical event, the Symposium highlights the latest ideas, research, products, and services in the air traffic management arena. Read more at the event website.