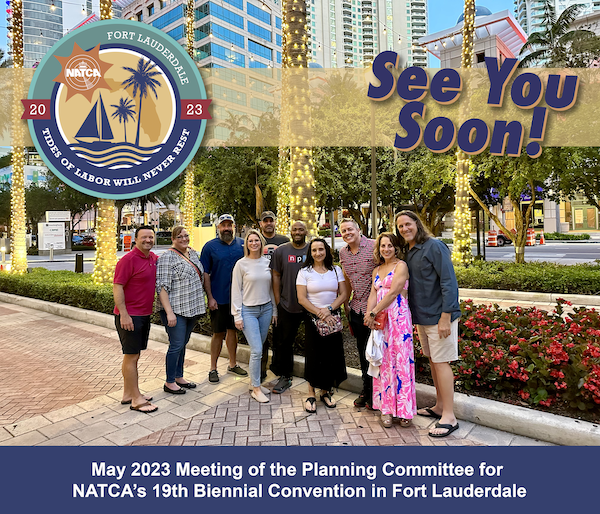 Convention Planning Committee Meets for NATCA's 19th Biennial Convention
The Convention planning committee held its last face-to-face meeting in advance of NATCA's upcoming 19th Biennial Convention. The committee discussed the final preparations necessary to welcome the delegates planning to represent our Union at this event.
NATCA's 19th Biennial Convention will be held at The Diplomat in Hollywood, Fla., from June 19-22, 2023. 
Online registration for Convention is now closed, but members will be able to register and/or purchase event wristbands in-person at The Diplomat.
June 7 is the last day to book your hotel room for Convention! Book your hotel room here. If you have any questions, or if you'd like assistance booking, changing, or canceling a hotel reservation, you can call the hotel at (855) 689-2911.
For additional information and updates, click here. 
PHOTO (left to right): Deputy Director of Public Affairs Kelly Richardson, NATCA Charitable Foundation President and Portland Tower (PDX) President Corrie Conrad, NATCA Credentials Committee Chair and Myrtle Beach ATCT (MYR) President Chris Martinez, Convention Planning Committee Chair Amy Sayers, planning committee member Corey Soignet (Houston Intercontinental ATCT, IAH), planning committee member and Oakland Center (ZOA) President Charles Howell, planning committee member Danny Aguerre (Miami Center, ZMA), (Director of Public Affairs Thom Metzger, Meeting Planning and Events Representative Mindy Soranno, and Southern Regional Vice President Jim Marinitti. The following planning committee members participated in the meeting, but were not photographed: Brittany Nortmann (Miami Center, ZMA), Amanda Richardson (Oakland Center, ZOA), and Sandy Tighe (retired member, Minneapolis Center, ZMP).