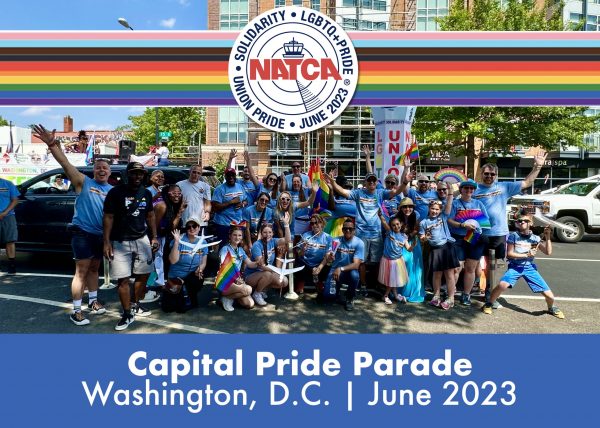 NATCA Participates in Capital Pride Parade
On June 10, more than 30 NATCA and Organized NATCA Employees Union (ONEU) members and their family members participated in the Capital Pride Parade in Washington, D.C. The group marched alongside a float featuring an ATC tower and distributed union-made lollipops to spectators as they marched. This year, the 5-hour long parade featured more than 500 hundred participating organizations and hundreds of thousands of spectators.
NATCA's contingent in the parade all wore the Pride shirts sold by the NATCA Charitable Foundation (NCF). For 2023, NCF sold 368 of the Pride shirts. NCF will be donating all net proceeds from the shirt sales, plus a minimum of $1000.00 to charitable organizations serving LGBTQ+ young people in California, the District of Columbia, Florida, Indiana, New York, Tennessee, and Texas.
These groups included:
Los Angeles LGBT Center (Los Angeles, Calif.): The Los Angeles LGBT Center has cared for, championed and celebrated LGBTQ+ individuals and families in L.A. and beyond since our founders first began providing services in 1969. The Center's nearly 800 employees provide services and programs that span four broad categories: health, social services and housing, culture and education, and leadership and advocacy.
The Montrose Center (Houston, Texas): The Montrose Center empowers LGBTQ+ individuals and their families to live healthier, more fulfilling lives. The Montrose Center envisions a healthier society marked by permanent, positive changes in attitudes and behaviors toward the LGBTQ+ communities and the ability of all LGBTQ individuals to realize their fullest potential.
New Alternatives for LGBT Homeless Youth (New York, N.Y.): New Alternatives increases the self-sufficiency of LGBTQ+ homeless youth by enabling them to transition out of the shelter system to stable adult lives. They do this by providing long-term support, weekly case management, education services, life skills training, community-building recreational activities, opportunities for self-expression, and programs for HIV+ youth.
OUTMemphis (Memphis, Tenn.): For the last 33 years, OUTMemphis has been serving the LGBTQ+ individuals in the Mid-South, working to empower, connect, educate, and advocate for this vibrant community. OUTMemphis provides a range of resources to support physical, mental, and spiritual health and treat addiction.
SMYAL (Washington, D.C.): SMYAL (Supporting and Mentoring Youth Advocates and Leaders) supports and empowers lesbian, gay, bisexual, transgender, and questioning (LGBTQ+) youth. Through youth leadership, SMYAL creates opportunities for LGBTQ+ youth to build self-confidence, develop critical life skills, and engage their peers and community through service and advocacy.
Spencer Pride (Spencer, Ind.): Spencer Pride's mission is to make Indiana a more welcoming place for all people. They operate the Spencer Pride commUnity center, coordinate the annual Spencer Pride Festival, offer a variety of health & wellness services, and host the Iris Youth Group. Spencer Pride is a 100% volunteer-powered 501(c)3 not-for-profit organization serving rural South-Central Indiana.
Zebra Youth (Orlando, Fla.): The mission of Zebra Youth is empowering LGBTQ+ youth to thrive. Zebra Youth advances its mission by providing high quality, culturally appropriate programs designed to meet the unique needs of homeless and at-risk LGBTQ+ youth. They strive to meet the community's needs for affordable youth housing, mental health services, proactive youth support, and community education.