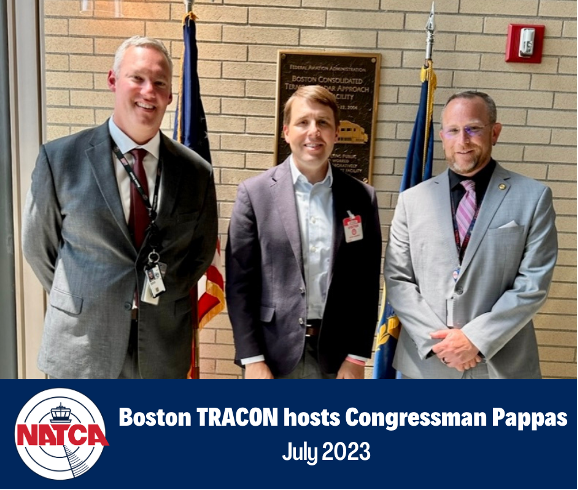 Boston TRACON hosts Congressman Pappas for Facility Visit
On Wednesday, July 5, U.S. Representative Chris Pappas (N.H.-1) and his staff visited Boston TRACON (A90). This was the Congressman's first visit to a Terminal Radar Approach Control Facility (TRACON). In attendance were A90 FacRep Nicholas Marangos and New England Regional Vice President Mick Devine.
The tour started with a short presentation on how the TRACON differs from a center and tower. After the presentation, the congressman was given a tour of the facility, noting that the building is newer than most FAA facilities. Touring the operation, the congressman sat at a radar scope and saw the large TRACON operation in action.
Throughout the tour, Marangos and Devine discussed challenges facing not just A90, but other facilities in New England and the National Airspace System at large. Staffing concerns and infrastructure needs were the major talking points. Pappas reiterated his strong support for NATCA's legislative efforts.
Learn more about NATCA's legislative activism, opportunities to get involved, and NATCA's efforts from your National Legislative Committee.