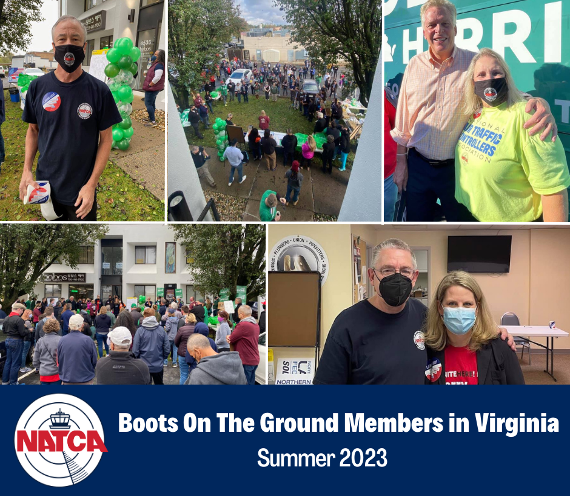 NATCA Boots On The Ground Members Take the Lead in Virginia
This week Boots On The Ground (BOTG) members John Carr, Bradley Grant, and Margaret Summers began four months of full-time commitment to leadership roles as zone leads for the Virginia AFL-CIO and Labor 2023.
"NATCA's commitment to arriving early, staying late, and providing passionate, knowledgeable, and experienced full-time staff is highly respected, appreciated, and recognized by not only the endorsed candidates we are helping to elect, but by local, state, and national AFL-CIO leadership as well," BOTG Program Manager Tom Thompson said.
There are approximately 150,000 union members in the Commonwealth of Virginia. NATCA's three members will be playing a large role in ensuring these members have everything they need to be fully informed union member voters on Election Day, supporting legislative leaders who will stand in unity with unions and working families across the Commonwealth.
Learn more about NATCA's legislative activism, opportunities to get involved, and NATCA's efforts from your National Legislative Committee.