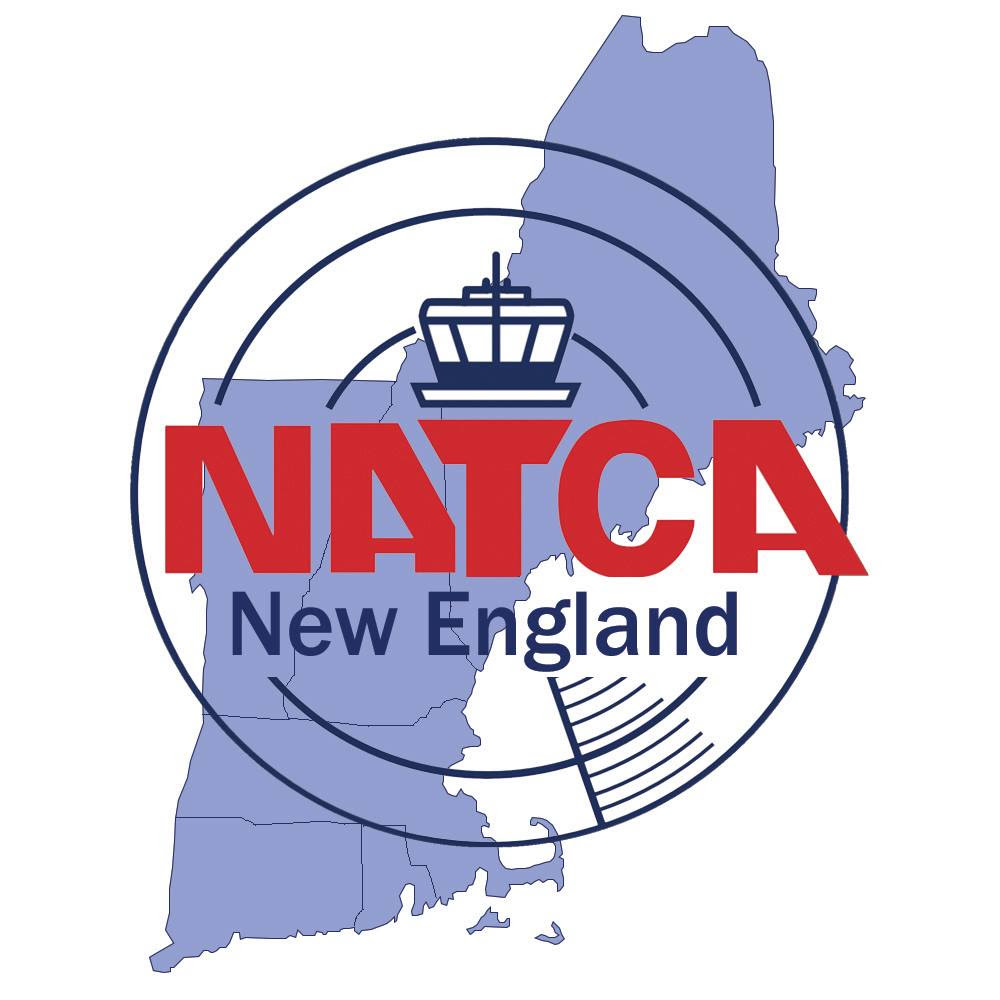 August 2023 New England Bi-Monthly Regional Update #1
From Mick Devine, NATCA New England Regional Vice President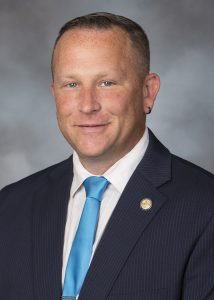 As we have been messaging, NATCA's staffing language was inserted into the FAA Reauthorization bill and with the help of our activists, handily passed in the House. Now that language is onto the Senate, where we are hoping to have similar success. Kudos to the dozens of NATCA members who went to Washington D.C. for our rolling lobby week to help get this monumental change over the first finish line. While there is still plenty of work to do, we are far beyond where we've ever been in the past on this topic.
While you have been briefed extensively on the CRWG, one of the key components that many have not discussed which President Rich Santa was able to get into this bill, was the maximum hiring language. Oftentimes you hear about the throughput at the Academy as being around approximately 2000 people. In other words, that is the maximum amount of people that can go through the Academy in one year. Is maximum hiring the same as max throughput? That's the question that will be answered in due time.
So, let's discuss hiring a bit. The FAA hires from many different pools of people. Traditionally, most of those hires need to go to the Academy before showing up to the facility. However, there are some pools to choose from that do not necessarily have to go to the Academy. For example, military direct hires and previous experience hires often do not attend the Academy, unless they are going to a different specialty (Tower, TRACON, Center) than they were at previously. Generally, AJG looks to match them up with what they did in the military or wherever their previous experience was.
While at the last Strategic Leadership Meeting (SLM), the topic of military hires came up with regard to the hiring plan for this year. Historically, the FAA has left the pool of direct hires to choose from full, so they could spread the hiring over many years from that pool. In their explanation, they went on to say that it helps if, God forbid, we don't have enough qualified applicants, we have this reserve on hand. That makes complete FAA sense, which is to say it makes no sense at all. This was a concerning stance considering the staffing crunch we find ourselves in today. It led me to ask the question—Why not drain that pool now and get them into the system today? This question was met with a confused look and a response, "Because then we wouldn't have any to hire next year." Yup, that's the FAA for you.
Why do I bring this up? In addition to maximum throughput at the Academy, draining the pool of direct hires into the system now falls 100% into the term "maximum hiring". That must be the standard we hold them to. We aren't looking to make baby steps to fix this problem. Problems of this magnitude require solutions equally as bold. That is why we need to hold strong to the FAA Reauthorization language and ensure that maximum hiring means just that. We must see this entire thing through. As we said in our election years back, "Planning without follow-through is abdication."
Changing topics, we understand how many of you feel about our union holding most of the NATCA Academy classes exclusively in Las Vegas. Most of our class offerings are two days or less. Nothing is worse than taking a long expensive flight out to Las Vegas from New England for a quick two-day class. Our longest class, Rep Training 1 (RT1), is a full five days. This creates an even worse problem which is having to be away from your family for a full week. With that, some informal polls were done at a few NNE facilities. We asked, "If RT1 was made available to you right here in New England, where you could do the classes during the day, and be home with your family at night, would it be something you are interested in?" Those informal polls came back with more yes answers than we would have expected. Thus, we will be hosting a full RT1 in New England the week leading up to the Super Bowl (February 5-9, 2024). We plan to have it in the Manchester/Nashua, NH area. It will be open to about 40 people to attend. As we get more specific details, we will let you know, but we at least wanted everyone to know with enough time to be able to bid the leave if they so desired. There will be two out-of-region instructors along with BOS FacRep, Matt Morgan. ZBW Area A Rep, Kevin Curtiss, was instrumental in bringing this to reality and will be the point of contact for this class.
---
From Scott Robillard, NATCA New England ARVP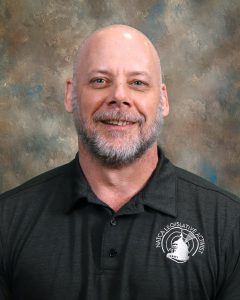 Hello NATCA New England. It's that time of year again! Your FacRep is preparing to go into Basic Watch Schedule (Article 32/34) and Annual Leave (Article 24) negotiations. So, I thought we could take a look at what I think is important to consider.
Annual Leave
Every employee is entitled to bid the amount of leave they earn in the year, not what you earn AND carry over. In negotiations, the Parties must figure out what they must account for. But the math is simple. They will add up all the leave all the employees will earn, add enough additional slots to allow for everyone to bid in weeks if they choose, then divide by the period. Everyone stops bidding when you hit the total amount of leave earned. Then Agency will try and minimize the additional slots to get to the lowest number of leave slots per day.
Just a couple of twists to navigate:
1. Do CPC and DEV/CPCITs bid together or separate?
2. What is the defined Prime-Time Period?
Keep in mind that 2 weeks of an employee's leave is contractually required to be in the Prime-Time period. So, if the Prime-Time Period is 4 months (Memorial Day to Labor Day and a week at Thanksgiving and Christmas), there must be enough slots during the period for every employee to bid two weeks. This bid is round 1.
Basic Watch Schedule (BWS)
Couple of major components to consider:
1. Determine the number of employees off each RDO
2. Agency determines the shifts start times
a. Max of 4 per Day/Night/Mid, unless NATCA agrees additional shifts at the local level.
3. Parties collaborate on the number of employees on each shift start time.
4. Decide if CPC and DEV/CPCITs bidding together or separate?
The art of the BWS is getting the number of employees on each set of RDOs right and the shift staffing guideline number right. The Agency will try to match the shift guideline number to the number of CPCs in the facility. We encourage your FacRep to not follow down the path. The shift staffing guideline number is for all the work expected to be accomplished on the shift. This includes the working of Tower/TRACON/ARTCC positions to include FD and CD and the Watch Desk when an Operational Supervisor is not assigned. But it also includes work groups, LSC, training, training debriefs, TRBs, ELM, recurrent training, and Labor Management relations. EVERYTHING a facility does.
If your shift staffing guideline number equals the total number of CPCs needed to run a rotation, you probably made a huge mistake, and you will pay for it for the entire year.
Talk to you next month.
---
Legislative
From Jamie Green, NATCA New England Legislative Chair, PVD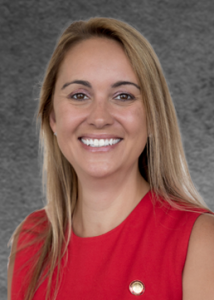 It has been a fast couple of weeks for NATCA's legislative team!
Before the iteration of FAA Reauthorization that we are currently working under, the previous FAA Reauthorization went through 23 extensions. In 2018, this cycle was broken and the FAA had a fresh Reauthorization that was not an extension. It was a challenge to write the legislation and pass the 2018 FAA Reauthorization which took significant time and negotiations. Once the FAA Reauthorization passed it helped the FAA be able to modernize and plan in ways it couldn't during the 23 extensions.
Now in 2023, with the expiration of the 2018 Authorization looming, Congress got to work on a new bill. Given the Republican-held House and the Democrat-held Senate, any bill will need to appeal to both parties to have a chance to advance. NATCA's Government Affairs and National Legislative Committee have been watching this process from the start and have been involved with committee leadership to educate them on the issues that are most important for our membership and for the National Airspace System.
During this year's NATCA in Washington, our activists ensured that members of Congress understood the importance of operational staffing needs at each facility. Activists discussed the new Collaborative Resource Workgroup (CRWG) between NATCA and the FAA and the jointly developed Certified Professional Controller (CPC) staffing targets and how language needed to be included in the 2023 FAA Reauthorization.
A Bipartisan bill was drafted by committee leadership in the House. The original House bill included the CRWG language and about four years of maximum controller hiring. NATCA recognized the importance of maximum hiring, but for the full five-year term of Reauthorization to really address appropriate staffing levels throughout the NAS. NATCA leaned into the House version of the bill, working with Representatives Dina Titus (NV 1) and Rudy Yakym (IN 2), to create a bipartisan amendment that would maximize controller hiring for the full five years of the FAA Reauthorization, as opposed to the originally proposed four years. I worked with our State Coordinators and member points of contact (POCs) to reach out to every Representative in the House. In the New England Region, we completed a reach-out in 18 hours, which is incredibly fast. I'm so proud of our NNE team.
The Senate draft bill included NATCA's CRWG language but was silent on maximum hiring. NATCA's Government Affairs (GA) addressed this by working with the NLC to reach out to targeted Senators, with the hopes of getting committee leadership to be receptive to adding max-hiring language for five years to the Senate bill, by amendment or in joint committee (when the House and Senate make a bill match before they send it to the President).
As a part of our efforts to get max hiring into the Senate bill, a small team of activists flew in for a rolling lobby week to meet with Senators and their staff. Six activists hit the hill to meet with Senate offices. When they were not doing that, they dropped in on House offices to request that the Representatives support the Yakym-Titus bipartisan amendment. The six activists that were there on Tuesday visited 57 House offices in addition to their Senate meetings.
The fact that our request would be considered en bloc is a testament to the reputation of NATCA and the work ethic of its activists. The impact of the email outreach done by the State Coordinators and member POCs can not be overstated.
On July 20, 2023, at 10:38 am Eastern, the House passed FAA Reauthorization with not only our max hiring language but also the language mandating that the FAA use CRWG numbers and not finance numbers to report controller staffing to Congress. The bill passed 351 to 69, with 13 not voting.
There is more work still to do. The Senate has yet to pass its version of the bill, and it will still have to be reconciled in a joint conference before being signed by the President. That said, getting our highest priorities included in the House bill is a huge win for NATCA and aviation safety.
This happened because NATCA has credibility and maintains relationships with members of Congress. Our activists do this work on their own time and make it a priority to improve things for fellow NATCA members. If you see a State Coordinator, a member POC, a facility Legislative Rep, or someone in NATCA "Legislative Activist" gear- take a second to thank them. Even better than that, join them as a legislative activist, get involved and help make our union stronger.
One last note about this whole process: During markup for the House version of FAA Reauthorization, there was an amendment proposed to remove official time from all DoD employees. NATCA opposed this amendment because it would affect our members at DoD facilities, and these anti-labor ideas are often tried in DoD before being expanded to other federal workforces. Fortunately, in part due to NATCA's opposition, this amendment was withdrawn and did not come up for a vote. But it should serve as a stark reminder: There will always be attacks on your collective bargaining rights. Some people don't think you deserve a say in how your facility or workplace is run, and they will take every opportunity to advance that goal. The way to ensure that doesn't happen is to stay active and informed.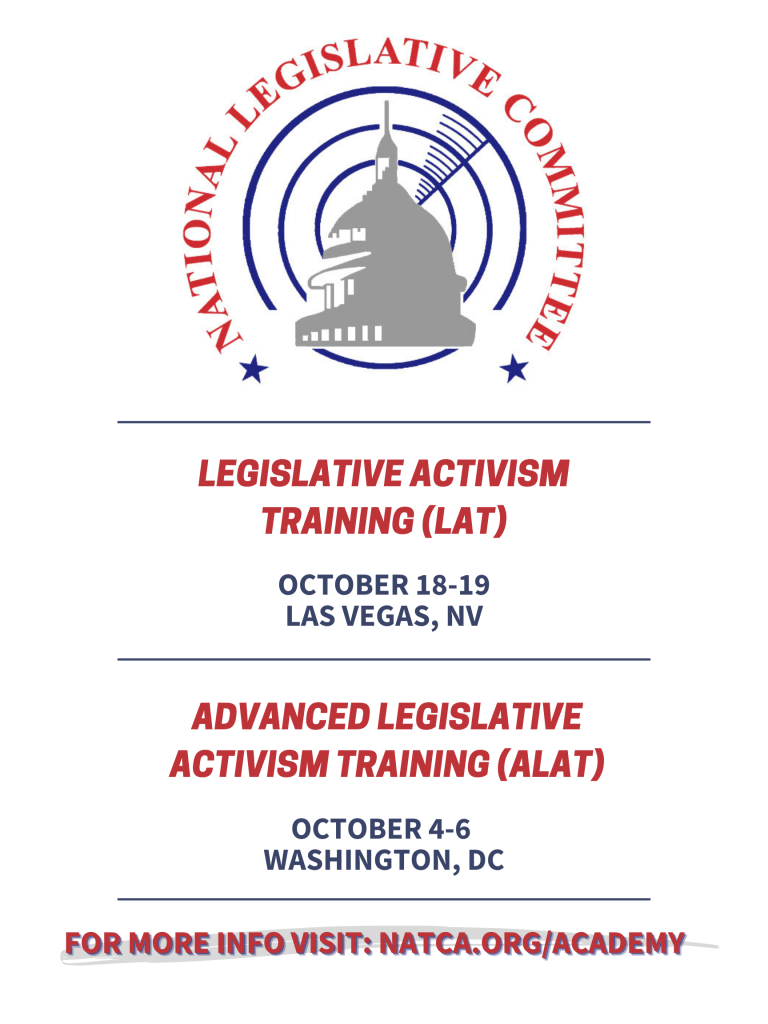 ---
Professional Standards
From Steve Schefcik, NATCA New England Professional Standards District Chair, PWM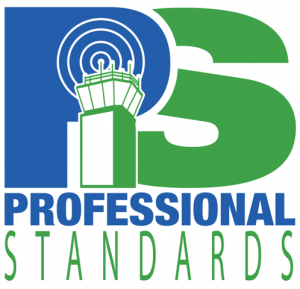 ProStandard cases have been fairly low throughout the region over the last couple of months. That being said, we have a great group of people who have volunteered to step up as PS committee members and handle any issues that do arise at the lowest level possible. If you ever have a situation come up and are unsure whether it is something that is appropriate for ProStandards, you can always check with your local committee member in your building or feel free to reach out to me at PS.BOS@natca.net.
Believe it or not, there are very few times when an issue is not appropriate for the program, and therefore very few times when the program cannot be utilized. Having committee members in all the buildings is key to maximizing the use of the program which is why the national team has already started putting together training classes for the fall with the first one scheduled for October. Lessening distractions in the workplace can have a huge impact on professionalism and safety, which we can all agree are two of the most important parts of our job. Please reach out to a committee member or myself if you ever have questions or need any help! Have a great rest of your summer!
---
Announcements and Information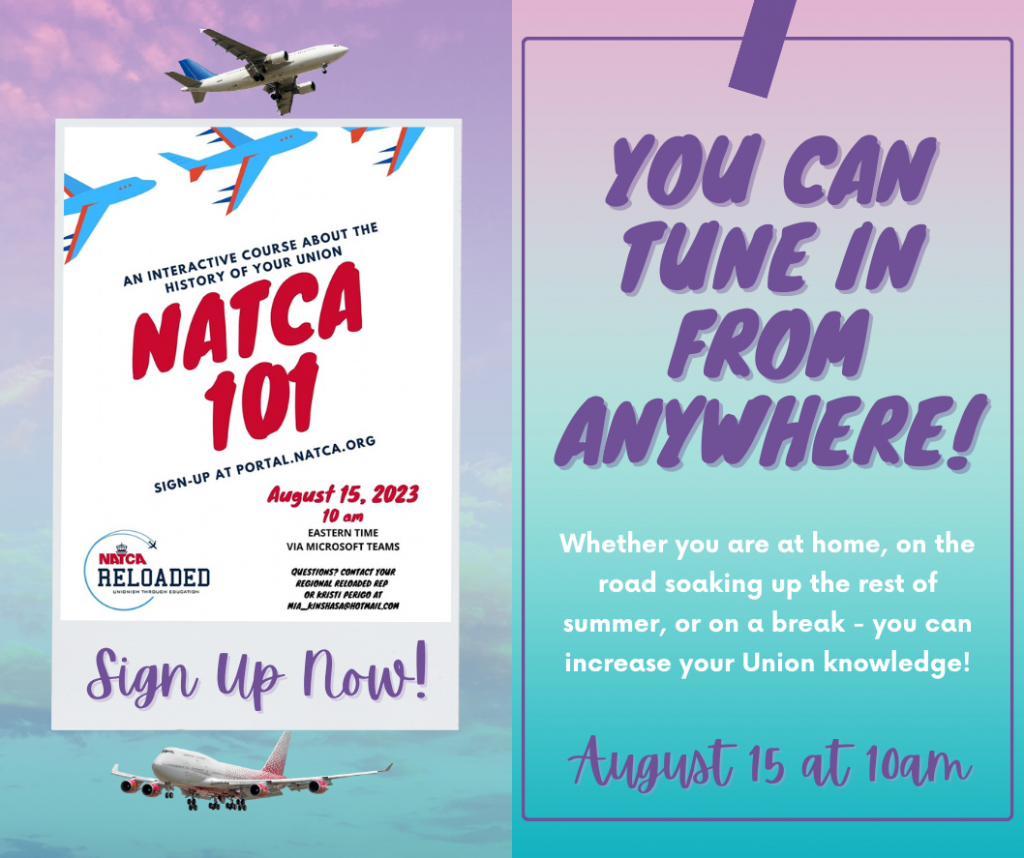 Have you taken NATCA's original virtual class, NATCA 101?
Tune in from anywhere to learn more about the history of our union, what it does for you, and how you can get involved. This class is held on the 15th of each month and August's class will be at 10:00am ET.
---
A well-educated Union is a strong Union! This fall, the NATCA Academy will be holding a variety of courses that can help you find your passion in our Union. To learn more about available classes and how to enroll, visit www.natca.org/academy.
Upcoming courses include:
Federal Contract Tower Training (FCT)
Occupational Safety and Health Training (OSHA) / Office of Workers Compensation (OWCP)
Legislative Activism Training (LAT)
Representative Training 1 (RT-1)
Safety Advocacy Training (SAT)
Drug and Alcohol Training (DAC)
Advanced Legislative Activism Training (ALAT), Held in Washington, D.C. – Oct. 4-6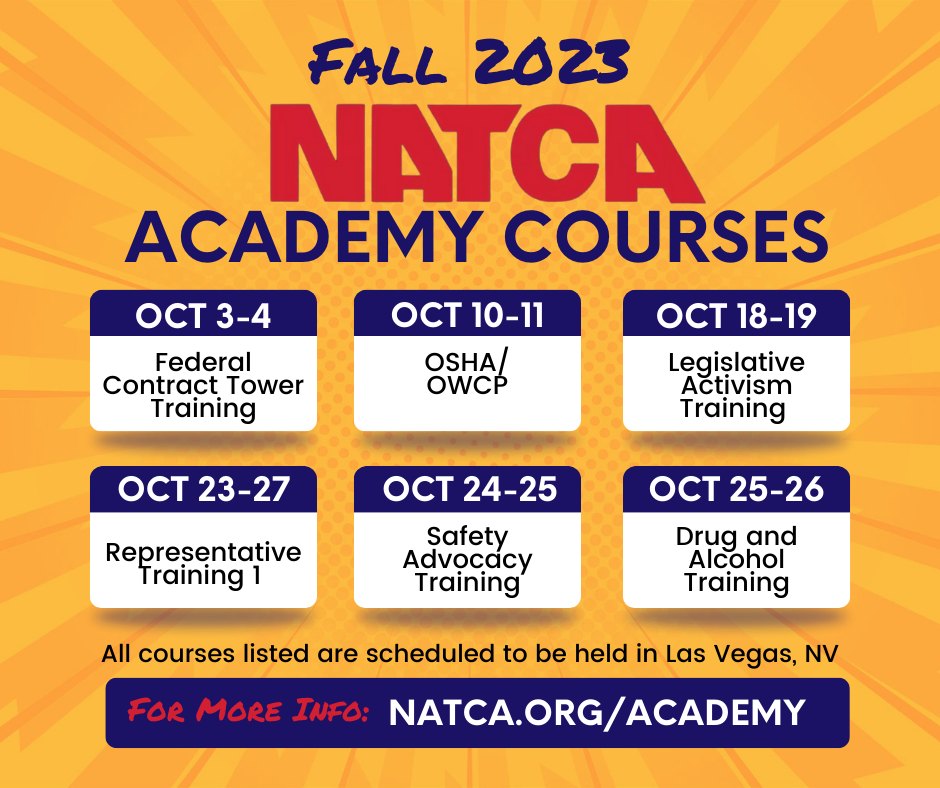 ---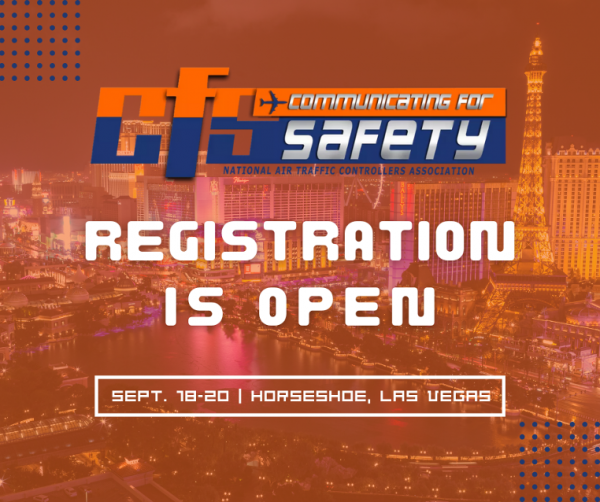 Registration for Communicating For Safety (CFS) 2023 is now open! Hosted annually by NATCA, CFS is the aviation industry's leading conference focusing on safety, technology, and relationship building. This three-day conference is the only one to focus specifically on the air traffic needs of all members of the aviation community who are affected by the National Airspace System (NAS). CFS will take place Sept. 18-20 at The Horseshoe (formerly Bally's) in Las Vegas.

Don't wait to register! This year, if you register on or before August 18, there will be lower pricing for the conference registration and tickets for the Archie League Medal of Safety Awards banquet. Register for CFS and buy banquet tickets here: https://www.natca.org/events/cfs/
---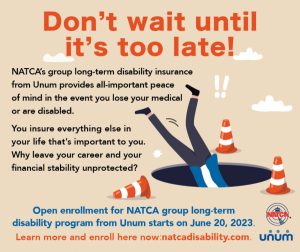 Open Season has begun for NATCA's popular Unum group long-term disability (LTD) program. The Unum LTD program protects NATCA members and their families with peace of mind.
If you lose your medical or become disabled for any reason, this plan activates and will pay you 50% of what you were grossing at the time of claim, up to a maximum of $5,000 per month (tax-free). This plan will then pay you that amount for up to five years. If you apply for coverage during open season, you cannot be turned down, and there are no health questions to answer.
LTD insurance can be the most important part of your overall benefits package, and NATCA offers members the opportunity to purchase it at affordable group rates. Covered members who have submitted claims through the program often describe the coverage they received as one of the greatest benefits of being a member of our Union.
During the 2023 open season, NATCA is offering a number of incentives for new enrollees and current plan participants. Click here to learn more about these incentives. The open season closes on September 30, 2023.
Members can enroll in UNUM LTD insurance today at natcadisability.com. If you have any questions, you can contact David Bowden of Southern Insurance Group, Inc. at gatorbowden@aol.com or 863-644-9944.
---