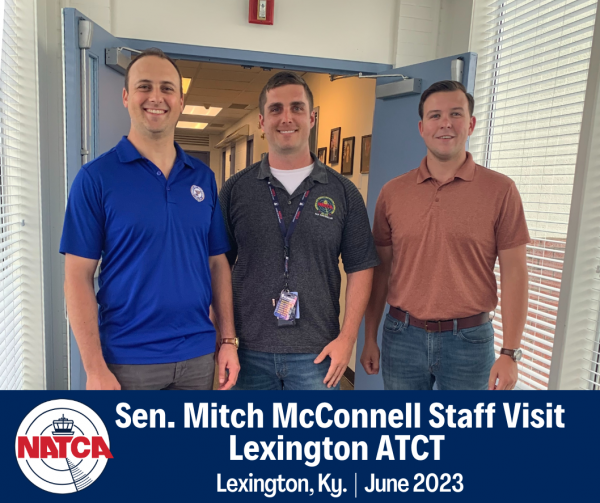 Sen. Mitch McConnell Staff Visit Lexington ATCT
Staff members of Senator Mitch McConnel (Ky.) — Legislative Assistant Andrew Fisher and Legislative Correspondent Garret Edmonds — recently toured Lexington ATCT (LEX) and airport in June, with LEX FacRep Jacob Elmer facilitating the air traffic facility tour.
"Andrew and Garret remembered at our last meeting in Washington during NATCA in Washington in May 2023," Elmer said. "It was their first time in a tower, so I gave them the full tour."
Elmer explained on local and ground and clearance delivery and how those functions operate. Elmer also discussed Ground Delay Programs (GDP) that were in place, due to weather and staffing shortages.
"They made several comments on how it was awesome seeing the tower for the first time and seemed very content with the information they had received," Elmer said.
Learn more about NATCA's legislative activism, opportunities to get involved, and NATCA's efforts from your National Legislative Committee.
Pictured, left to right: Fisher, Elmer, Edmonds.