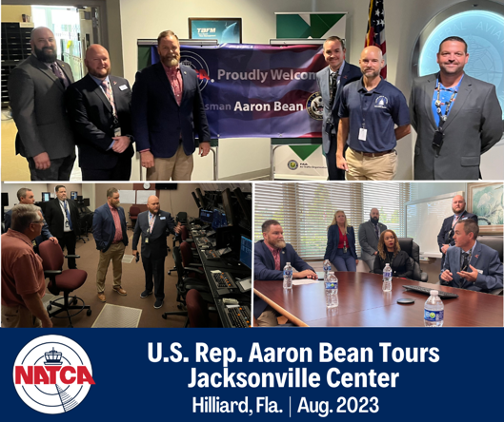 U.S. Rep. Aaron Bean Tours Jacksonville Center
U.S. Rep. Aaron Bean (Fla., 4th) toured Jacksonville Center (ZJX) on Aug. 1, accompanied by his District Director Bryan Campbell and several of his constituents including American Airlines pilot Ken Byrns. The visit was facilitated by ZJX Legislative Rep. Justin Eckman. Joining Rep. Bean and Eckman were ZJX FacRep Trevor Thompson, ZJX Vice President Tony West, ZJX Secretary Mark Sellek, and ZJX Area Rep. Tom Tribou. The tour started with a briefing highlighting the complexities of ZJX air traffic, including playbacks of weather issues and the effects of military airspace and rocket launches on the operation.
Rep. Bean announced the visit on his social media channels: "Spent the afternoon with the men and women who control the skies and ground at the Jacksonville Air Route Traffic Control Center. A few weeks ago, I was proud to vote in favor of the FAA Reauthorization Act to provide essential infrastructure funding support for our #FL04 airports."
Learn more about NATCA's legislative activism, opportunities to get involved, and NATCA's efforts from your National Legislative Committee.