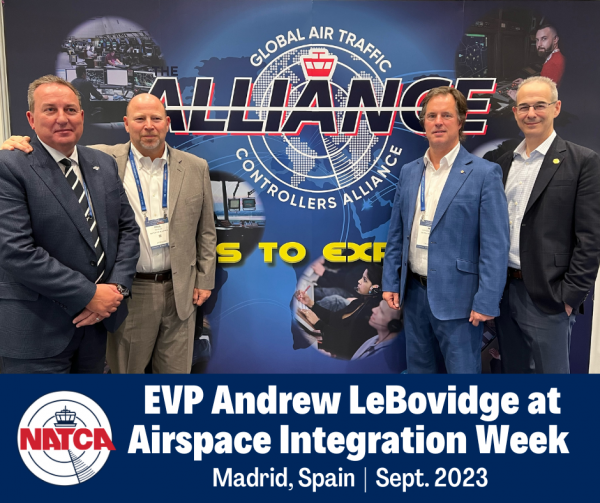 EVP Andrew LeBovidge Attends Airspace Integration Week in Madrid
NATCA Executive Vice President Andrew LeBovidge attended Airspace Integration Week Madrid from Sept. 25-28.
During the conference, LeBovidge spoke on a panel titled "ATC and You: Integration, Communication and Planning…Building a More Vibrant Airspace." The panel focused on how to approach the introduction of new types of aircraft and increased traffic into the National Airspace System (NAS) without causing negative impacts.
Other panelists included Jeffrey Vincent (Executive Director of UAS Integration, FAA), Lydon Sleeper (East Policy Lead Joby Aviation). Erick Corona (Director of ConOps and Airspace Ecosystem Development, Wisk), and Nick von Schoenberg (CATCA President).
PHOTO (left to right): Prospect ATCOs' Chair and Global ATC Alliance President Paul Winstanley, NATCA President Emeritus Paul Rinaldi, CATCA President Nick von Schoenberg, and NATCA EVP Andrew LeBovidge