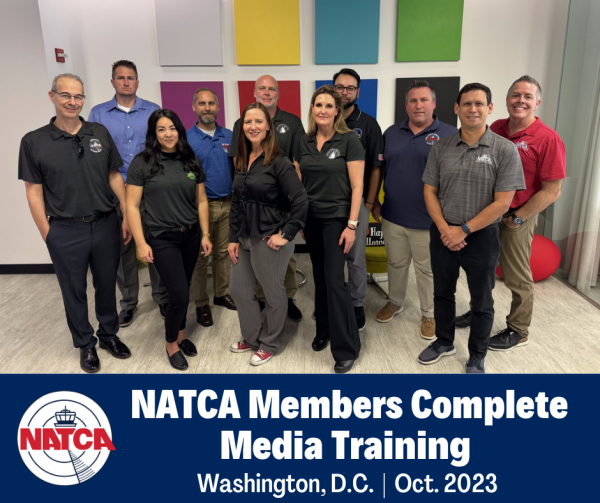 NATCA Representatives Attend Media Training in Washington, D.C.
Eight members traveled from across the country to Washington, D.C. for two days of media training from Oct. 5-6. NATCA Executive Vice President Andrew LeBovidge welcomed the members of the class on the first day of their training, encouraging them to take what they learned during the training and use it to represent the Union at their facilities.
Held at a professional television studio, the members received both classroom and practical instruction on best practices and strategies for interviews with the media. After completing the training, which was run by NATCA Public Affairs Director Thom Metzger and Dep. Director Galen Munroe, the members are now equipped to handle interviews on behalf of the Union.
The eight graduates of the October 2023 media training were Matt Elliott (St. Louis TRACON, T75), Jason Felser (New York ARTCC, ZNY), Ben Hudak (Columbus ATCT, CMH), Miguel Lluch (San Francisco ATCT, SFO), Kenneth Rodal (Austin ATCT, AUS), Jamie Sanders (Denver/Centennial ATCT, APA), Stephanie Winder (Salt Lake City ARTCC, ZLC), Nicole Wysong (Engineer, Northwest Mountain Region, ENM).
PHOTO: (back row, L-R) Rodal, Hudak, Elliott, Lluch, Felser, Metzger. (front row, L-R) LeBovidge, Wysong, Winder, Sanders, Munroe.