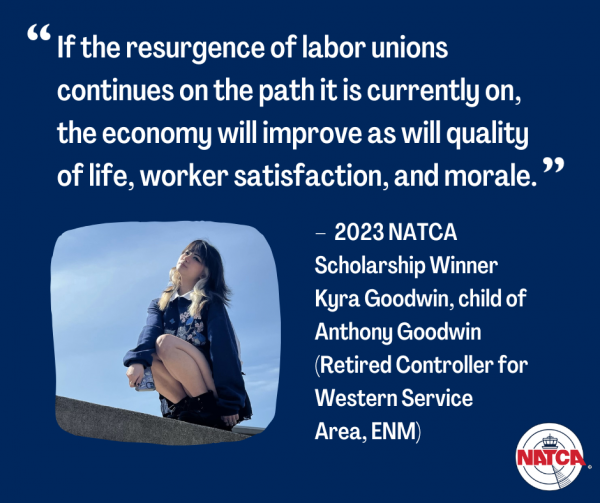 Read Scholarship Winner Kyra Goodwin's Essay
Every year, NATCA offers a scholarship program for spouses, children, stepchildren, and legally adopted children of active, retired, and deceased members in good standing for at least two consecutive years. This scholarship is for full-time attendance at accredited colleges and universities within the United States and its territories for an undergraduate degree program.
This year's prompt asked candidates to examine why labor unions are experiencing a resurgence and what implications this has for the future.
Kyra Goodwin, child of Anthony Goodwin (Retired Controller for Western Service Area, ENM) is among this year's 20 scholarship winners. Below is the essay that Kyra submitted:
All that any working person desires is a job that pays fairly, opportunities for benefits, and a safe work environment. While this seems like a small ask especially from companies that bring in billions of dollars a year, many people in the workforce aren't offered a number of the resources and safety conditions that any establishment should be able to provide, thus the appeal of unions. The economy being at a low due to the damages COVID-19 caused worldwide, the support of the president, and the major issues relating to race that our nation is facing resulted in unions gaining attention in recent years.
During the most dangerous points of the COVID-19 pandemic, many workers began to express concerns about their safety due to their need to put their own lives at risk to keep the
necessary establishments running that were unable to function entirely remotely. It was at this
time that they also chose to share other safety grievances. This led to the fight to gain benefits such as health, vision, and dental insurance and paid time off. In addition, the amount of people in the working class at this time were not being paid a sustainable wage as inflation was rising rapidly or were being laid off. Politics also have a huge role in the rise of unions due to a member of the democratic party holding the presidential seat. In general, the Democrats have been known to be highly supportive of unions and people working towards making their workplace a better environment. President Biden has been labeled the most pro-union president in history which has had a major influence in their resurgence. On another note, race seems to be a never-ending issue when it comes to equality in the workplace and while many were expressing their concerns about wages and fair treatment. While some used the pandemic as a way to express their views on safety in the workplace, minority groups took it upon themselves to fight for their own rights in terms of fair treatment. Ultimately if the resurgence of labor unions continues on the path it is currently on, the economy will improve as will quality of life, worker satisfaction, and morale.