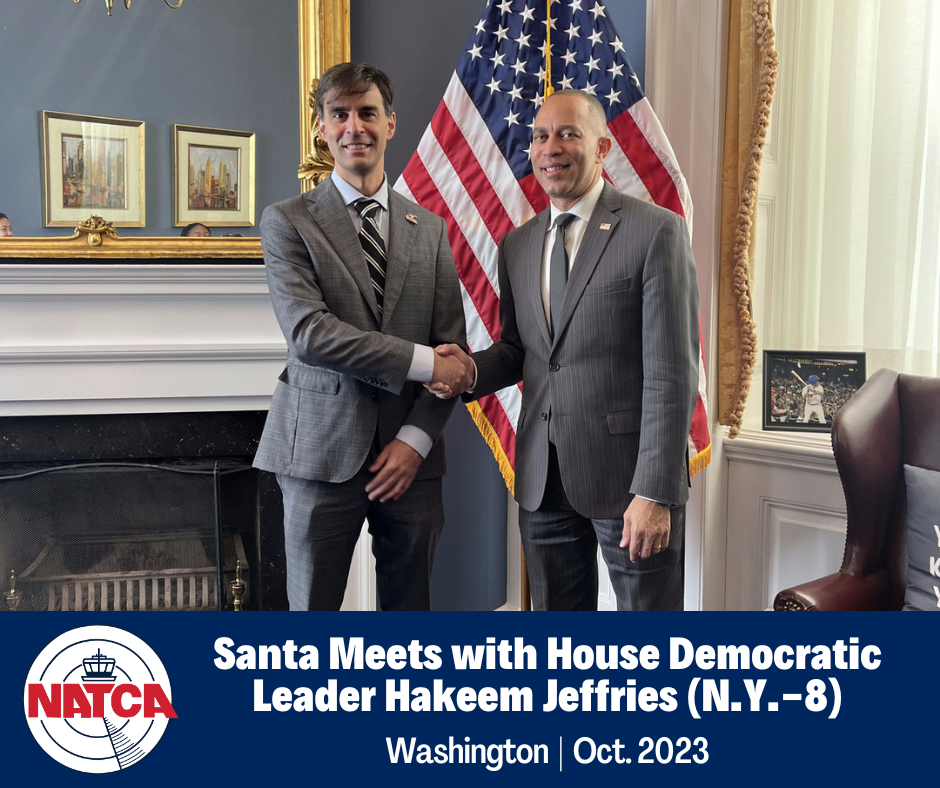 NATCA President Rich Santa Advocates for Members Amid Shutdown Concerns; Meets Top Congressional Leaders
NATCA remains focused on ensuring our Union's agenda advances in Congress. In October, NATCA President Rich Santa met with several top Congressional leaders to urge passage of a long-term FAA reauthorization bill to improve staffing and address the ongoing air traffic controller shortage. He also had discussions about a possible government shutdown next month, what this would mean for NATCA members, and the detrimental effects it would have on the National Airspace System.
Santa met with:
House Democratic Leader Hakeem Jeffries (N.Y.-8)
House Democratic Whip Katherine Clark (Mass.-5)
Senator Ben Ray Lujan (N.M.)
Senator Gary Peters (Mich.)
Senator Sherrod Brown (Ohio)
Congress has until Nov. 17 to reach an agreement on funding the government. FAA's authorization expires Dec. 31.
"Ahead of the holidays, I met with NATCA to discuss how to make our aviation system safer and more reliable to get you home safe and on time," Senator Ben Ray Lujan (N.M.) posted on social media about the meeting. "With government funding set to run out in a month, our air traffic controllers and Federal Aviation Administration are at risk. I'm fighting to support them."
NATCA leadership, the National Legislative Committee, and national office staff will continue to make our members' voices heard in Washington.
Learn more about NATCA's legislative activism, opportunities to get involved, and NATCA's efforts from your National Legislative Committee.