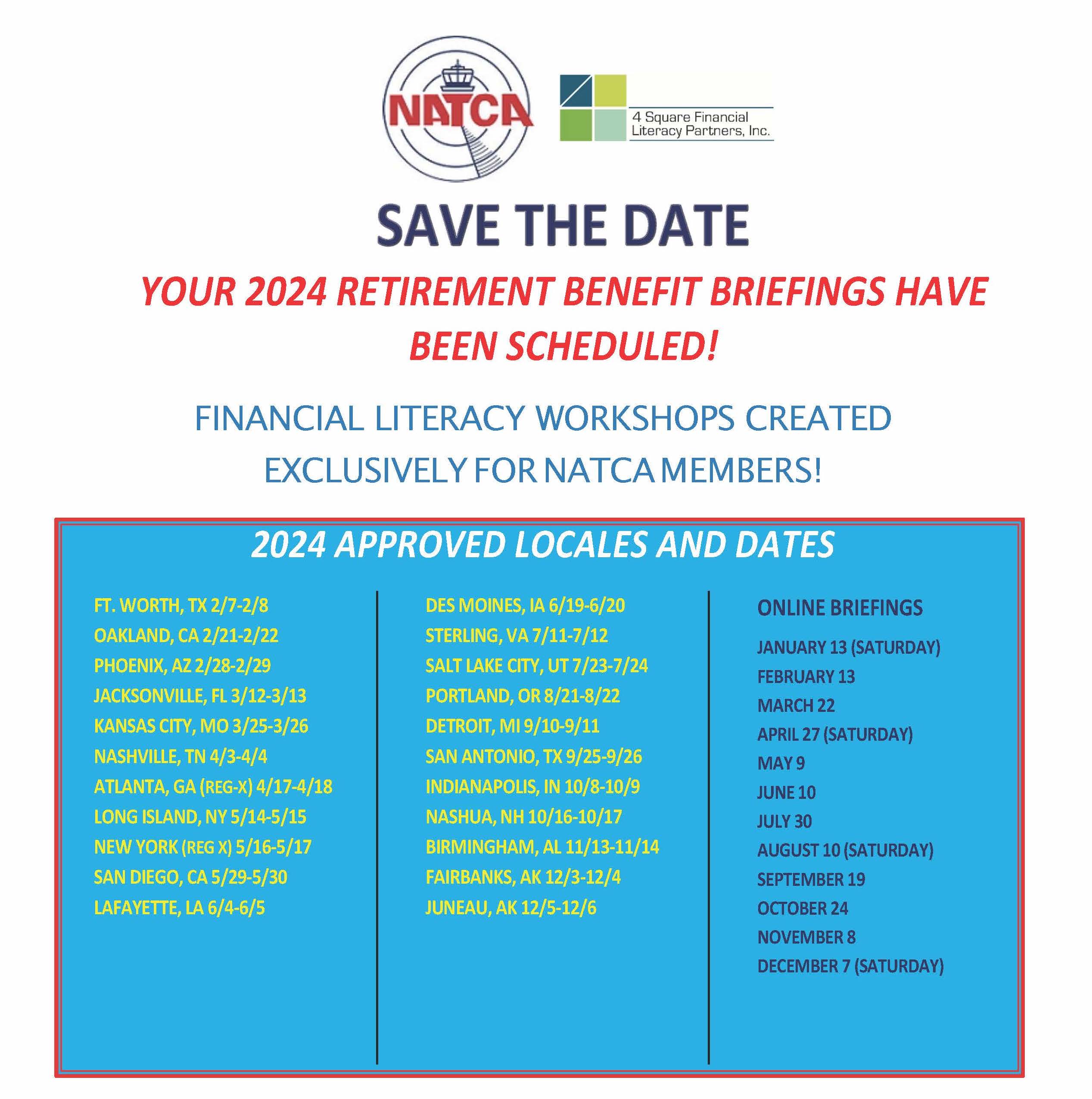 Schedule for 2024 Retirement Benefits Briefings
2024 Retirement Briefings with 4 Square Financial Literacy Partners, Inc. have been scheduled. Members have the opportunity to attend in-person and online workshops. Register for a session on the NATCA Portal.
In-person sessions are one day each and will take place 9 a.m. – 3 p.m. local time.
In-Person Sessions:
Fort Worth, Texas: Feb. 7 & 8
Oakland, Calif.: Feb. 21 & 22
Phoenix, Ariz.: Feb. 28 & 29
Jacksonville, Fla.: March 12 & 13
Kansas City, Mo.: March 25 & 26
Nashville, Tenn.: April 3 & 4
Atlanta, Ga. (for Region X): April 17 & 18
Long Island, N.Y.: May 14 & 15
New York (for Region X): May 16 & 17
San Diego, Calif.: May 29 & 30
Lafayette, La.: June 4 & 5
Des Moines, Iowa: June 19 & 20
Sterling, Va.: July 11 & 12
Salt Lake City, Utah: July 23 & 24
Portland, Ore.: Aug. 21 & 22
Detroit. Mich.: Sept. 10 & 11
San Antonio, Texas: Sept. 25 & 26
Indianapolis, Ind.: Oct. 8 & 9
Nashua, N.H.: Oct. 16 & 17
Birmingham, Ala.: Nov. 13 & 14
Fairbanks, Alaska: Dec. 3 & 4
Juneau, Alaska: Dec. 5 & 6
Online Sessions:
Jan. 13
Feb. 13
March 22
April 27
May 9
June 10
July 30
Aug. 10
Sept. 19
Oct. 24
Nov. 8
Dec. 7