NATCA Leadership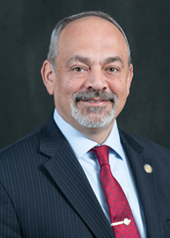 Brian Shallenberger
Eastern Regional Vice President (NEA)
Brian Shallenberger is serving his first term as NATCA's Eastern Regional Vice President.
Shallenberger was born and raised in Connellsville, Pa. He enlisted in the Marine Corps in 1988 and served as an air traffic controller at MCAS Cherry Point, N.C. (NKT), and NYL Yuma, Ariz., until 1997.
Shallenberger began his Federal Aviation Administration career at Scottsdale ATCT (SDL) in 1997 before transferring to Washington Center (ZDC) in March 2002, where he served as facility representative (2016-2020), vice president (2014-16), and area rep (2006-13). He also has served as NATCA Eastern Region NCEPT rep and collaboration facilitator.
"My vision for the Eastern Region is to continue to build on the structure we have in place along with expanding training and activism," he said. "Not just one person can make our Union successful, it takes the collective whole to be strong and move us forward."
Brian and wife Gabriela live in Virginia and have three daughters: Isabella, Alexa and Emily.