John Thornton and the Birth of NATCA
The story of NATCA began long before the Union's 1987 election and Federal Labor Relations Authority certification. It began with NATCA's founding father, John F. Thornton, a gifted and influential leader whose passion for representing the interests of the nation's air traffic controllers began with the Professional Air Traffic Controllers Organization (PATCO), and continued as a national organizer of NATCA. "He gave this union the foundation on which to build, and he set the tone that NATCA was a different union with different goals," said NATCA President Paul Rinaldi. "Without John Thornton, NATCA may never have existed."
Thornton was a controller in the United States Air Force in 1965. In 1973, he transferred to civilian air traffic control at then Washington National (DCA) Tower/Terminal Radar Approach Control (TRACON). He was still in training at DCA when he was elected the PATCO facility representative.
PATCO called for a strike on Aug. 3, 1981, seeking improved working conditions, increase in pay and reduced work hours. Over 13,000 controllers across the country went on strike, including Thornton.
President Ronald Reagan had promised PATCO that he would rebuild the air traffic control system alongside them during his run for office. However, Reagan fired 11,345 air traffic controllers for not returning to work and banned them from employment with the federal government for life. On Oct. 22, 1981, the Federal Labor Relations Authority (FLRA) decertified PATCO, leaving its members without representation.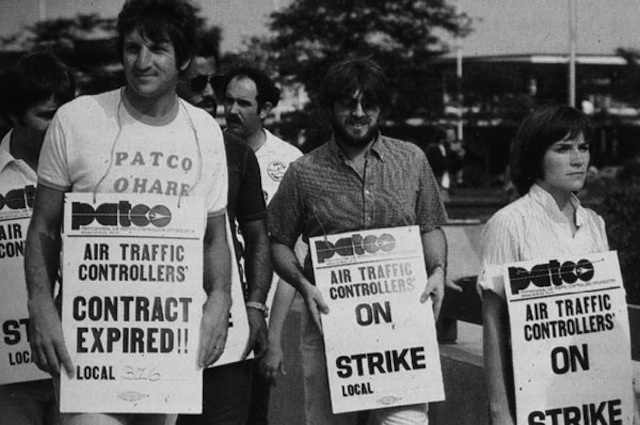 Thornton took to the picket lines with his union brothers and sisters, and he was among the handful of controllers who were arrested; he served 10 days in the Fairfax County, Va., jail. Once released, he, like many air traffic controllers, was out of a job. He began selling insurance to make ends meet.
Two years later, air traffic controllers looking to organize a new union sought Thornton's help. Despite the pain and damage caused to him by the strike, Thornton accepted the offer.
Traveling throughout the country to drum up support for the new union, Thornton immersed himself in a nationwide effort to organize and shape a labor union that air traffic controllers could proudly support.
In an article run by People magazine in September 1987, Thornton said controllers, at that time, often worked grueling six-day weeks, eight hours a day, under the same kind of intense pressure experienced by "a doctor in an operating room." The system was so shorthanded, he said, that controllers accumulated 800,000 to 900,000 hours of overtime annually.
Thornton's organization efforts culminated on June 11, 1987, when 70 percent of air traffic controllers voted in favor of NATCA as their sole bargaining union. It was an extraordinary turnout, and telling of the times – that conditions in the nation's air traffic facilities weren't getting any better, and concerns about air safety were growing.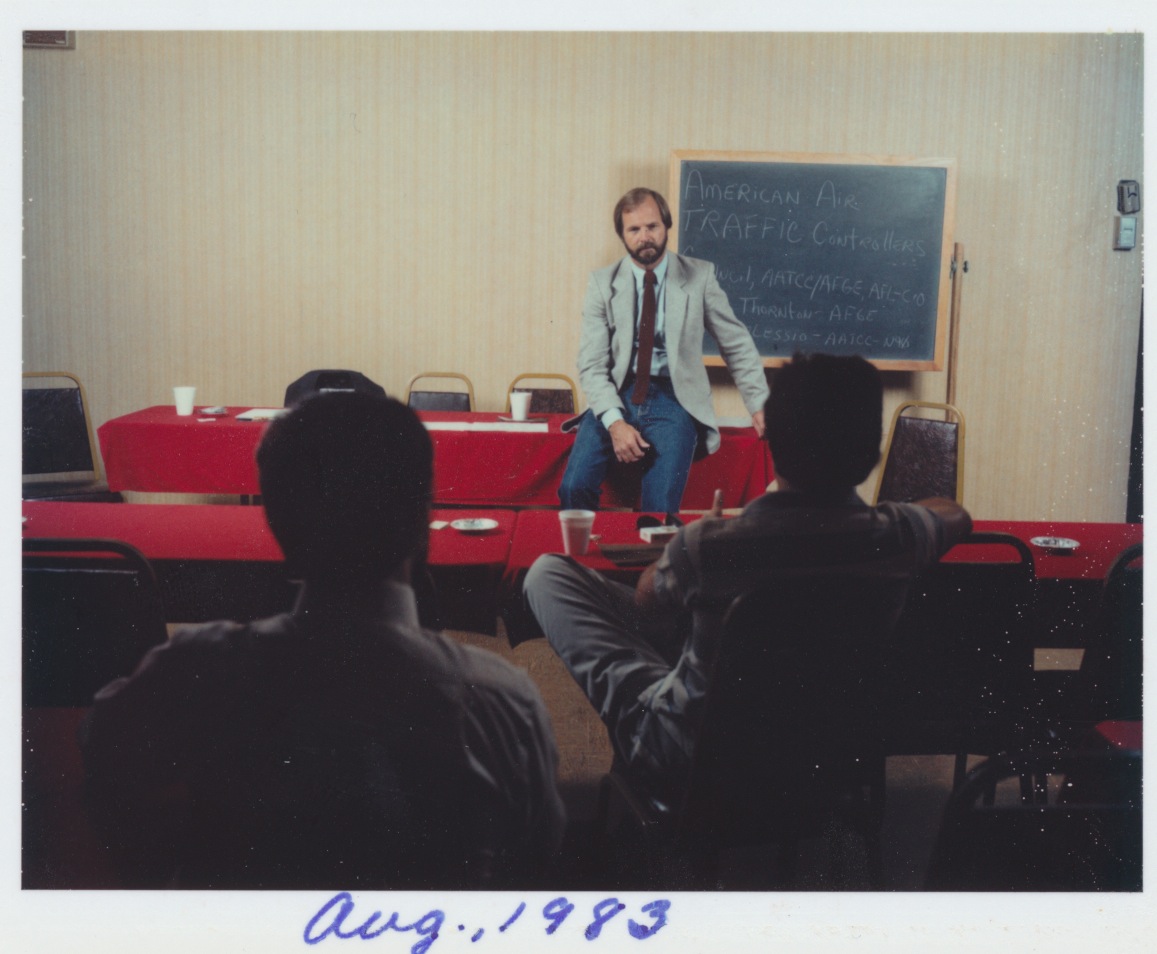 "John paid the sacrifice in 1981 so he could better the profession and workplace for future generations of air traffic controllers," said NATCA Executive Vice President Trish Gilbert. "He used his past to help us build a better future. It is leaders like him that set the bar for us, instilling in us to never give up and always strive for improvement. He is forever cemented in this union's memory."
After NATCA's certification, the Union appointed him senior director of legislative affairs, a position he served in for seven years. He was a strong advocate for the improvement and strengthening of air safety, and he conveyed clearly that NATCA was a different kind of union, with a new way of handling matters.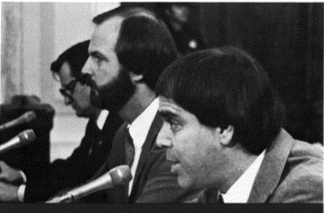 Dennis Delaney(left), NATCA Southern Region Representative, John Thornton (center), NATCA National Coordinator, and Howie Barte (right), NATCA New England Region Representative testify on non-punitive safety reporting before the Senate Aviation Subcommittee, 1987.
"We want a non-adversarial relationship with the FAA," said Thornton in an interview with the Los Angeles Times in June 1987. "Not a lot of rhetoric. Not a lot of confrontation. If we went out and started condemning them, got that old antagonism going again, we really couldn't expect them to say, 'OK, we'll deal with you in an upright manner.'"
He also said, before the Aviation Safety Commission in July 1987, that, "The controllers who voted for NATCA are extremely concerned by the deteriorating margin of safety in the Air Traffic Control System and the lack of corrective action by the FAA. They believe a union can make a difference, in air safety where they as individuals could not. That is why we are appearing before you today."
Though Thornton left the Union in 1995, he was bestowed with an honorary lifetime membership in appreciation of his contributions to the Union.
"John was probably the most tireless of advocates on our behalf, pushing one person at a time to build this great union that we know as NATCA," said President Emeritus Barry Krasner.
Howie Barte first met Thornton in 1984 when Barte decided to get involved in re-unionizing the controller workforce. "John and I became friends almost instantly," he recalled.
Barte and Thornton worked together to find funding for the controllers' organizing efforts after support and money from the American Federation of Government Employees (AFGE) had dissipated by late 1985. At that point, Barte recalls, AFGE had reduced organizing funding to "just my long distance phone bill and nothing else."
In October 1985, Gene DeFries, the president of the Marine Engineers Beneficial Association, called Barte to say MEBA would fund them. DeFries asked Barte to become national coordinator for the new union but he refused. Barte said he told him, "the guy he wanted was John Thornton. He hired John in November 1985, and in December 1985, in the MEBA office in Washington D.C., John and I met, adopted the name NATCA and the NATCA logo."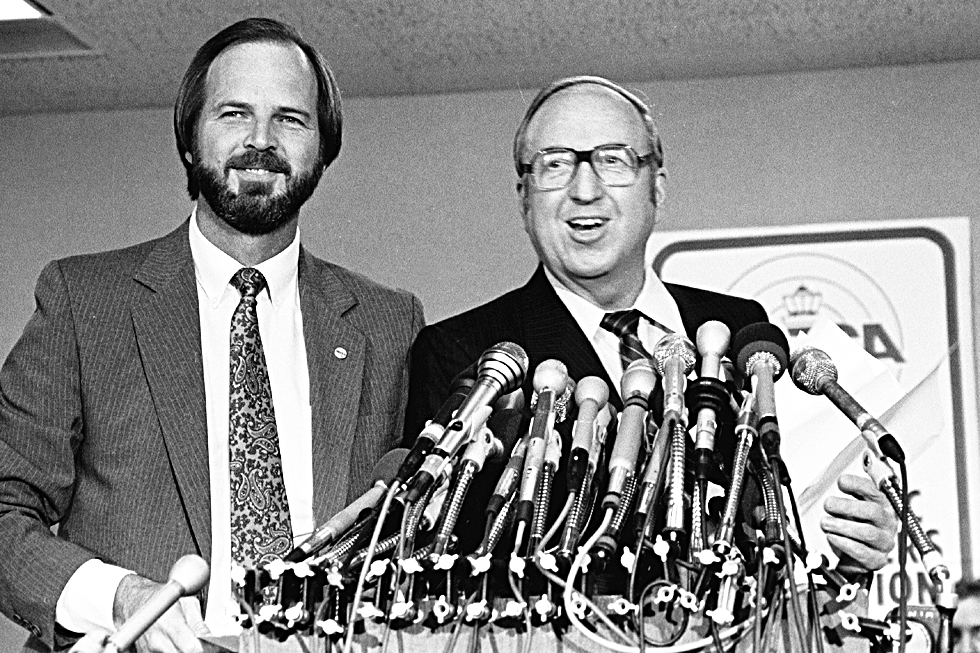 Thornton (left) and DeFries (right) announcing the favorable vote for NATCA.

Former two-term NATCA President John Carr called Thornton a patriot in the purest sense of the word.
"In the PATCO strike of 1981 John was fired for his beliefs, yet he rose from that injustice to become a visionary, a leader and perhaps the most dignified man I ever met," Carr said. "Much like Benjamin Franklin, John was a founding father, a politician, an activist and a diplomat. In the years leading up to NATCA's certification, John was the face and voice of NATCA. After our certification, John mentored the new officers, helped draft our first constitution and contract, and smoothly guided a diverse group of very opinionated individuals into the most powerful Union in the federal sector."
Carr said Thornton's legacy is "breathtaking" because both his life and work "vastly improved the lives and work of every single air traffic controller who has come through the system for nearly 30 years. We are who we are because he was who he was. Every tin pusher that ever wore a headset owes John Thornton a debt that can never be repaid."
Thornton passed away on Nov. 3, 2013. The following year, at NATCA's 15th Biennial Convention in Minneapolis, the Union created The John Thornton Award in recognition of extraordinary contributions that have significantly changed the course of NATCA's history. To learn more, visit the NATCA website.
VIDEO RESOURCES
View the video chronicling John Thornton's life and career.
View a special tribute to Thornton on Oct. 3, 2014, including the presentation of the Thornton Award to his wife, Ginny.